Thousands of supporters took to the streets of Beirut to mourn the death of Hezbollah's senior-most commander Mustafa Amine Badreddine. The martyr, as he is now being considered, was killed in an air strike in Syria on 10 May.
Supporters flooded the streets to pay their respects to the leader, singing eulogies and chanting death to America, Israel and the Saudi ruling family. Residents of Beirut scattered flowers and rice over the crowd as the funeral procession passed through.
The coffin, wrapped in a Hezbollah flag, was led through the city by some of the group's top officials and Badreddine's brother and was accompanied by a marching band. It was buried at the Rawdat Shahidayn cemetery with full military honours in the same shrine as his predecessor and brother-in-law Imad Mughniyeh, who was assassinated in Damascus in 2008.
"The people of the resistance are used to these shocks but we are proud of him," The Guardian reported one Hezbollah supporter as saying. "We will march on. It is incredible to have a leader willing to sacrifice in this way, though we knew little of him."
"We are all in one field of battle and in the end we win either victory or martyrdom," another said.
A BBC correspondent in Beirut reported the Lebanese are worried that the Islamic State (Isis) will take advantage of the fact that their leader is dead and try and invade the region.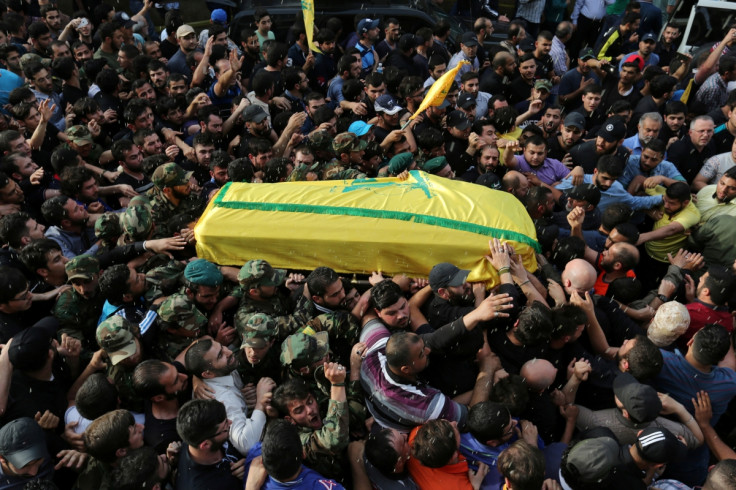 Hezbollah is yet to announce the country that they believe is responsible for the death but most of the public are already pointing the finger at Israel. Deputy leader Sheikh Naim Qassem said soon "we will announce in detail the cause of the explosion and the party responsible for it". However, other leaders from within the military group chose to wait to reveal who they thought was responsible.
Hezbollah MP in Lebanon, Nawar al-Saheli, said: "This is an open war and we should not pre-empt the investigation but certainly Israel is behind this. The resistance will carry out its duties at the appropriate time."
Yaakov Amidror, a former national security adviser to Israeli PM Benjamin Netanyahu, opined that aside from Israel, the Islamic group has numerous other enemies who could be responsible "but from Israel's view, the more people with experience, like Badreddine, who disappear from the wanted list, the better".