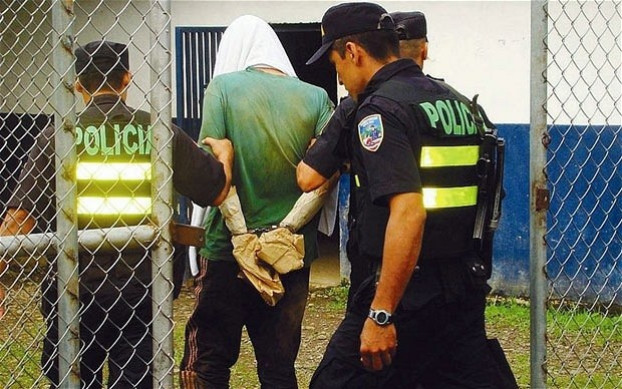 Interpol warned Costa Rican authorities that a British backpacker accused of murdering a Czech student should have never been allowed into the country, it has emerged.
Alfred Saunders was arrested for the murder of Alexandra Drbohlavova, 22, in a tent in Costa Rica.
Saunders, 20, is alleged to have picked up a knife from a farm kitchen and stabbed the Czech student 15 times while she slept in a tent.
It is thought that Peter Donati, whose son Nic runs the farm where the killing took place, captured Saunders and tied his hands and feet together using tree vines before calling the police.
It has since emerged that Interpol released a "green alert" on Saunders last November, declaring he was a "dangerous individual" with a history of violence.
The green alert warned that Saunders was still at large in Central America. He was linked to a string of offences, including sex crimes, possession of explosives and a fatal assault. The alert added that Saunders, the son of wealthy academics, was liable to commit offences with minors and suffered from mental illness.
Marisel Rodriguez, for Costa Rica police, said that officials picked up on Saunders' alleged past when he crossed the border into Nicaragua on 27 December.
"It wasn't sent directly to Interpol in Costa Rica but it was sent directly to Nicaragua and other neighbouring countries because it appears Interpol UK knew he was in Nicaragua at the time," Rodriguez told the Telegraph.
"Interpol here recommended he be refused entry but immigration officials works under the auspices of Costa Rica's ministry of security and are free to take their own decisions about who is allowed into the country. On this occasion they decided to let him in."
Saunders travelled to Nic Donati's remote farm near the town of Colonia la Libertad in the border region with virtually no possessions, said officials.
Hours after arriving, he is alleged to have stabbed the victim, who had been a volunteer at the farm for just a few weeks. He stabbed her 15 times in her neck and back.
The green alert issued by Interpol is used to warn law enforcement agencies and border control organisations of potentially dangerous individuals entering the country.
"In Saunders' case it was for sex crimes, assault resulting in death, torture or acts of barbarism, and the possession of firearms, ammunition or explosives," said Rodriguez.
"The notice described him as a violent individual who as well as being a suicide risk was liable to commit sexual crimes against minors and could be armed. It also described him as suffering from mental illness."
The alert was sent on 9 November.