A British man and an Australian woman who are being investigated in connection with the killing of an Indonesian traffic police officer were made to re-enact their version of the events on a beach in Bali for investigators – and the world's media. Cameras flashed as David Taylor 33, his Australian girlfriend Sara Connor, 45, and a man playing murdered police officer Wayan Sudarsa were posed in a series of violent – yet static – scenes on Kuta Beach.
The pair went through the alleged events scene by scene under the direction of police officers. As each scene was announced by an Indonesian police officer, the suspects and "the victim" held a pose, while another police officer held a sign indicating the number of the scene.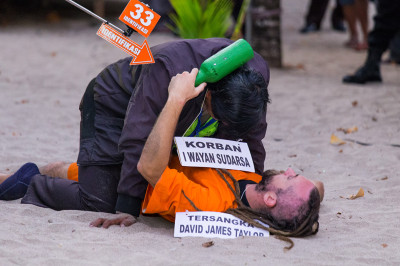 The body of Wayan Sudarsa was found in the early hours of 17 August, face down in the sand on Kuta beach, with 42 wounds to his head and neck. Connor's handbag was found nearby.
The couple had been drinking beer on the beach in the hours before the late-night encounter. Taylor, who is a musician with the stage name DJ Nutzo, admitted getting into a fight with Sudarsa, who was on duty, after Connor realised she had lost her handbag and accused the officer of stealing it and being a fake police officer. The dispute escalated after Taylor tried to search Sudarsa, who pushed the British man to the ground.
Taylor and Connor were arrested on 18 August over the killing. Both confessed during questioning that they were involved, but their versions of the events differ. Taylor confessed to bashing the Indonesian man with a beer bottle (and also with a mobile phone and the police officer's binoculars) and leaving him unconscious, but said he hadn't killed him.
Connor originally said the officer was a "bad cop" and had used his body weight to hold her down in the sand. She also denied any involvement in the fight, claiming she saw Taylor beating the man while she was looking for her purse. This story did not explain the bite mark on her leg, so she then said the police officer had bitten her when she had merely been trying to separate the two fighting men.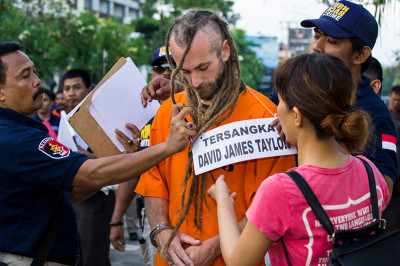 Denpasar police chief Hadi Purnomo said Taylor could be charged with murder and potentially face up to 15 years in jail. Connor could be charged as his accomplice. Under Indonesian law the pair are suspects in the case, charges are only laid once the case gets to court.