MuscleNerd has yet again stepped in to help iPhone 3GS users with newer BootROM. The new update enables 3GS users to easily downgrade the 06.15.00 baseband that only worked on older ROMs earlier. The veteran hacker took to Twitter on Wednesday to announce the release of the latest Redsn0w update that will also add a new "DFU IPSW" feature.
In a nutshell, the new Redsn0w update allows iPhone 3G and iPhone 3GS users sporting iPad's 06.15.00 baseband to downgrade back to 05.13.04 baseband with a fully working unlock and GPS.
As ijailbreak notes, the DFU IPSW feature will essentially allow an iPhone, iPad or iPod Touch with broken buttons to enter DFU mode for a successful jailbreak. This task is accomplished by successfully restoring to an IPSW without the use of any hacks or pwnage steps. Nevertheless, it would require a legitimate restore file to work properly, according to MuscleNerd.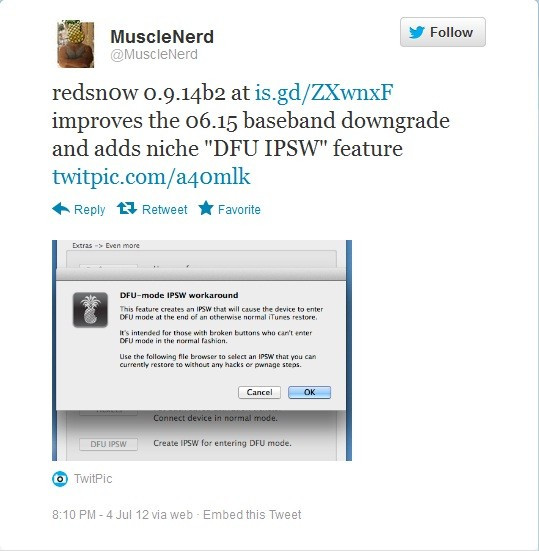 The new DFU IPSW method paves the way to enter DFU mode even on those devices with broken hardware buttons, which was impossible to achieve on earlier IPSW versions.
Here is the complete DFU-update-release-statement from the iPhone Dev Team, as cited on their official blog:
"We've gotten a lot of feedback from users who can't launch a DFU ramdisk because their iPhone home/power buttons are broken or intermittent. We've added a new redsn0w feature that lets you enter DFU mode as long as your phone is healthy enough to restore to a normal, everyday IPSW. You don't need to be already jailbroken to use this method.
"In redsn0w, go to "Extras->Even More>DFU IPSW" and select an IPSW that is currently being signed for your device and that you'd normally be able to restore to without any hacks. redsn0w will create an "ENTER_DFU_" version of the IPSW that you can restore to just like any other IPSW, except that now you'll be dumped into DFU mode towards the end of the restore (WARNING, your screen will remain completely black...the only way to even know its on is that iTunes and redsn0w will detect it!). The technique used by this feature is 3 years old but surprisingly still works today!"
For step-by-step instructions on how to downgrade your device's baseband using latest Redsn0w update, please refer to our tutorial posted here.
Download Redsn0w 0.9.14b2 for Windows
Download Redsn0w 0.9.14b2 for Mac