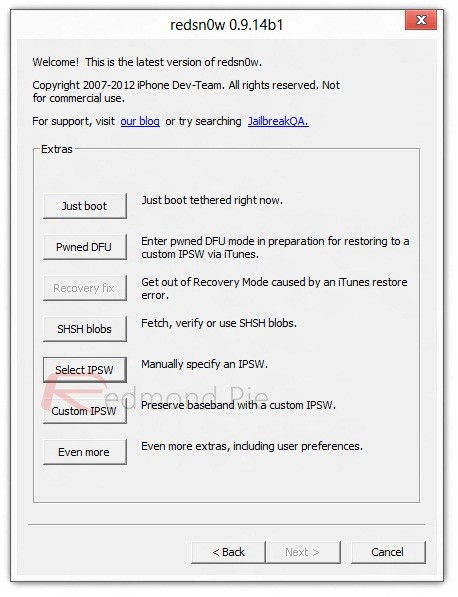 Finally, the iPhone Dev Team offers respite for all users who updated to the iPad baseband for an unlock last year and face the embarrassment of losing GPS capabilities on their phones, thanks to Apple's new update with Maps service in iOS 6. The new Redsn0w update, engineered by hard work from hacker MuscleNerd, offers baseband downgrade options for all iPhone 3G and 3GS owners from 06.15.00 to previous versions with full unlock and GPS support.
Apple's iOS 6 has been hogging the limelight for quite some time and the team of hackers would normally be busy testing exploits on beta jailbreak for iOS 6. Fortunately for iPhone 3G/3GS users, MuscleNerd has saved the day.
Here are excerpts from the Dev Team's release notes:
"The iPhone Dev Team is happy to announce a baseband downgrade option in redsn0w for those who are using the iPad's o6.15 baseband on the iPhone3G or iPhone 3GS. Typically you'd have the 06.15 baseband if you unlock with ultrasn0w but updated your iPhone baseband past 05.13.04. With this new capability, you can now downgrade specifically from 06.15 to 05.13.04 (even if you never had 05.13.04 on that device before). This gives you the best of both worlds: ultrasn0w compatibility and a normal iPhone baseband with full GPS and the ability to use stock IPSWs again."
Before we begin the downgrade process, it is vital to note the procedure is applicable for devices running 06.15.00 baseband only. In other words, it works only with iPhone 3GS and 3G and has no support for iPhone 4 or iPhone 4S users. As always it is recommended to backup your device to prevent loss of data during the process.
In addition, the iPhone Dev Team has issued a critical warning message for iPhone 3GS users running the latest BootROM:
"If you have an iPhone3GS and if digits 3-5 of its Serial Number are 134 or later (xx134...), then you should NOT try to install the 06.15 baseband on your 3GS! It will brick your radio, preventing both the downgrade from working and normal iPhone software from using it as a phone! Be warned!"
Step 1: Download the latest Redsn0w 0.9.14b1 update for Windows/Mac
Step 2: Extract the downloaded files in compressed form to the desktop on your PC or Mac
Step 3: Download the IPSW file for the current version of iOS on your device from Cydia. Save the download file to a safe location
You can check which version of iOS your device is running by going to Settings > General > About > Version.
Step 4: Start Redsn0w and tap Extras button on screen
Step 5: Now hit on Select IPSW option and browse through Redsn0w for the IPSW file which you downloaded in Step 3. For instance, if you're already running iOS 5.1.1, then point Redsn0w towards that firmware version and so on. Once you find the required IPSW file, click on Open
Step 6: At this point Redsn0w will prompt you to choose whether you have an older BootROM iPhone 3GS or a new one. Follow the onscreen instructions carefully to avoid errors and potential data loss
Step 7: Navigate to the main screen of Redsn0w and hit the Jailbreak option. It takes some time to process the jailbreak data and you will see a set of options
Step 8: Now select the Downgrade from iPad baseband and Install Cydia options. Then, click Next. If the device is already jailbroken with Cydia onboard, you don't have to Install Cydia again (leave the option unchecked)
Step 9: Ensure your device is powered off and unplugged from the mains. Follow the onscreen instructions to put the device in DFU mode and once the device is ready, click Next
Step 10: Once the device enters DFU mode, Redsn0w will take control of the downgrade process for your device. The process is a bit time consuming, so leave the device alone until you get a prompt for reboot after completion of downgrade
Step 11: You will receive a prompt to reboot on successful completion of baseband downgrade and your iPhone will be on the unlockable 05.13.04 baseband. Now you can start Cydia and use the latest version of Ultrasn0w to unlock your device
[Source: Redmond Pie]
Key Points to Note:
Before we wind up the tutorial, there are a couple of key points to remember in case the process fails.
As iPhone Hacks notes, if your device's baseband is still stuck at 06:15:00 after completing the process, just repeat it. According to MuscleNerd, "the downgrade code minimizes risks but false positives are possible".
Another tip from MuscleNerd: Many people with "No signal" issues after the downgrade from 06.15 have reportedly fixed it by re-installing Mobile Substrate and/or Ultrasn0w.