The haunting site of the former Auschwitz extermination camp in Poland has become such a runaway tourist attraction that administrators have established on online reservation system.
More than 250,000 tourists have already visited the site near Krakow this year - 40% more than the same time last year - and authorities fear they'll soon have to turn away travellers. The Auschwitz-Birkenau Memorial and Museum, which operates the site, reported an all-time record number of 1.5m visitors last year. Officials speculate that the numbers are bound to climb even higher this year because interest has been spurred by celebrations marking the 70th anniversary of the camp's liberation by Allied forces on 27 January 1945.
"An online reservation [system] is the only guarantee of entering the museum on the date and time of your choice," now warns the museum, which has created a separate reservation Internet site for both individual and group visits "due to an overwhelming interest".
Entry to the site is free; visits by children under the age of 14 are not recommended. Visitors are expected to behave with the "appropriate solemnity and respect, and dress in a manner befitting a place of this nature", notes the museum web site.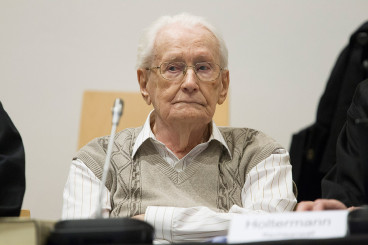 Officials recommend setting aside at least 90 minutes for a visit to "acquire a proper sense of the place that has become the symbol of the Holocaust as well as Nazi crimes against Poles, Romas and other groups".
At least 1.1m people died at the sprawling camp complex established in Polish territory annexed by the Nazis. Nine out of 10 of those who died were Jews, accounting for about one of six of every Jewish man, woman and child who died in the Holocaust. The camp was staffed by some 7,000 Nazis.
Oskar Groening, a 93-year-old former Nazi SS guard known as the "Bookkeeper of Auschwitz," is now on trial for his role at the camp, charged with being an accessory to the murder of at least 300,000 prisoners. He insists he witnessed mass killings but never participated.
"I ask for forgiveness. I share morally in the guilt but whether I am guilty under criminal law, you will have to decide," he told the judge at the start of trial in this week in Lueneburg, Germany. If convicted Groening could be sentenced to three to 15 years in prison.