Muslim students protest Newcastle University's plans to turn prayer room into multi-faith space
Students complained they had to pray outside as they cannot access prayer room during weekends.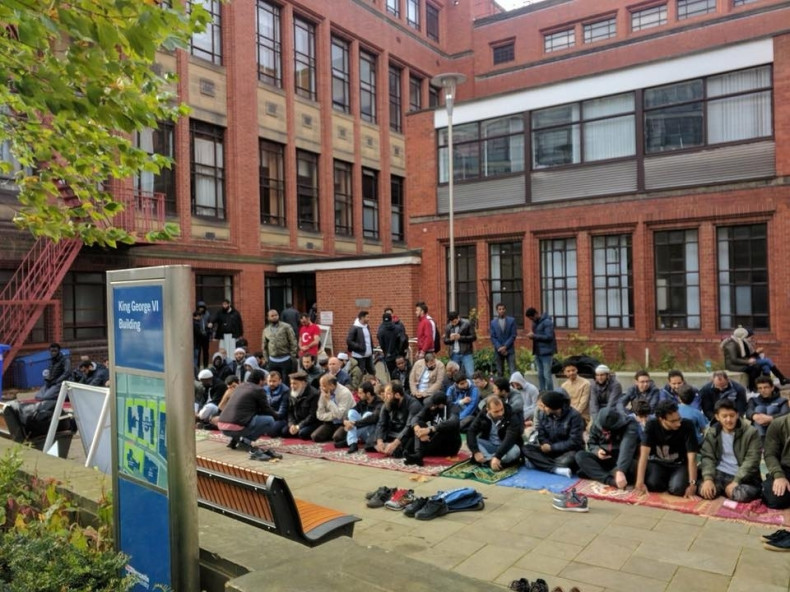 Muslim students at Newcastle University have staged a peaceful protest against the university's plans to turn their prayer room into a multi-faith space.
They were joined by university staff at a public prayer session outside the King George VI building on Sunday (22 October) to demonstrate against the university restricting their access to the main prayer room.
The facility was temporarily closed over the summer for maintenance and since reopening in September the opening times have been changed.
Muslim students can now only enter the room on weekdays and from 8am to 1pm on Saturdays, despite the fact that Islam requires worshippers to pray five times a day.
Students told the Newcastle Chronicle that they have heard their prayer room could be turned into a multi-faith space soon. The Islamic Society is calling on the university to overturn this decision, arguing that the room is already at full capacity and does not have the space "to house other faiths' societies on the same premises".
"The room has been a Muslim prayer space for 30 years and it was open 24/7," medical student Omar Ali told the newspaper. "It's now closed most of Saturday and all-day Sunday. There is no alternative outside those hours and we have to pray outside or in other public buildings."
"The university has said in the past they don't want people praying in libraries but that is what they are forcing us to do. Our days revolve around prayer - it's extremely important," he added.
Another medical student, Danyal Ladha, said: "On Friday prayer in particular, there are so many of us using the prayer space that there is not enough room and we spill outside. The room holds 400, so that tells you how many people use it.
"There just simply isn't enough room for it to be turned into a multi-faith space. I would have no problem sharing it with other faiths if it was big enough!"
In a statement the university said that a "number of unexpected building issues" coupled with "operational difficulties" regarding late-night access to the prayer room, meant that it was reviewing extending access to people from other faiths.
"To address its long-term faith space needs, the university is forming a Multi Faith Space Task and Finish Group, which will look at the needs of all faith groups within the university with the aim of ensuring equitable faith space provision, commensurate with a higher education institution setting," the university statement read.