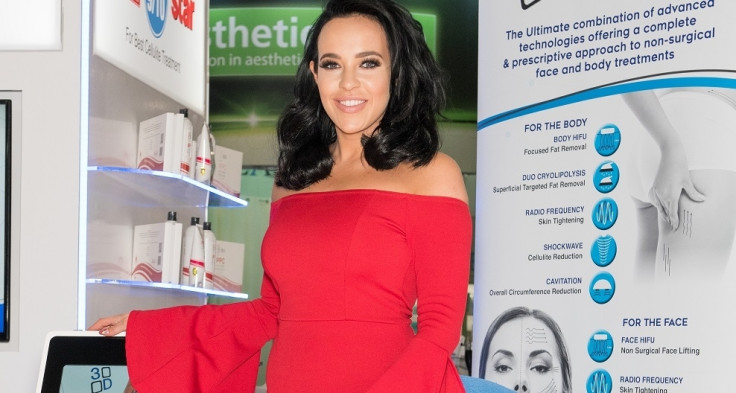 Following a turbulent few weeks which saw her assaulted by her former boyfriend Jeremy McConnell and suffer a miscarriage, heartbroken Stephanie Davis has revealed the special person that has given her strength to carry on.
On Thursday (10 August) the ex-Hollyoaks actress shared a post on her Instagram that described her seven-month-old boy Caben-Albi, as her "Everything".
The adorable snap showed the 24-year-old star's little boy with nothing but a towel wrapped around him and was captioned: "My world, my everything " with two heart emojis.
Reposting the image to Twitter, she added: "My world. Keeps me going. Absolute world. So beautiful."
Hours earlier, Davis confirmed that she had lost her second child as a result of what she described as the stress of dealing with her ex's assault trial. The news came after he was found guilty of assaulting her at Liverpool Magistrates' Court earlier in August.
"Too lose a child is something I hope no one EVER goes through. The grief and pain is UNBELIEVABLE . Words CANNOT describe. My heart is BROKEN," Stephanie wrote alongside a picture of a butterfly.
"I lost my baby due to the stress Jeremy put me under, history repeating its self after carrying caben alone for 9 months while he goes out with women and partying and posting pictures on purpose when I was in hospital and nearly lost caben on several occasions."
Davis confirmed she was pregnant back in July after she was arrested at a north London hotel on suspicion of assault after a row with McConnell escalated. He was found guilty of domestic assault and the former celebrity Big Brother contestant vowed she could "never forgive" her ex who she said "ruined my life and killed our child".
"I would like to grieve for my child, find strength and move on. I walked into that court with my head held high after he laughed and goaded me, and I continue to be strong, be a good mum to my son and if ANYTHING has come from my horrific ordeal, to help those who have been in my shoes and help give them the hope, that there is light at the end," she said.
"I don't know HOW I'm standing, but I am. And what doesn't kill you makes you stronger... Mummy Loves u little one GBNF."