I've always liked a good music festival. But since my Beloved and I came to South African shores, we've not indulged ourselves once.
So, when digital satellite TV service DSTv started advertising its "Delicious International Food and Music" event, we definitely thought we should give it a go. Not only were we promised wondrous sounds aplenty, but "foodie-friendly fun and good vibes" too. How could we resist.
And so it was that on Saturday lunchtime, in admittedly rare fashion for the usual car-bound whites in Jozi, we set off on foot to the park-like Joburg Botanical Gardens near Emmarentia Dam – a mere 40 minute walk or so from our place in Parkhurst.
Just as we were tramping through grass already brown due to lack of rain during the dry winter season, we suddenly happened upon a burst of colour.
To our delight, it was a wall covered in bright and beautiful tags made familiar by our downtown graffiti tour and placed there courtesy of Mars, Tapz and the rest of the Demolition Squad, one of Jozi's most well-known, and prolific, crews.
Just as we were getting over that particular bit of excitement though, we came across another. Following the clarion call of Scottish bagpipes, we found ourselves lured to a 'Highland Gathering' in the grounds of De La Salle Holy Cross College in nearby Victory Park.
And there, amassed before us, were multi-ethnic pipe and drum bands dressed in every shade of tartan known to man; red-haired and red-faced girls dancing competitive reels on a black stage; and multifarious "craft" stalls selling everything from tam-o-shanters to tartan boxers.
A noticeable absence from the proceedings though was the authentic Scottish cuisine. Without so much as a neep or a tattie to be had, the culinary highlight was that old South African staple, boerewors (beef sausage), with the odd cone of chips thrown in for good measure.
Long history
Another thing scarce on the ground was the good, old Scottish accent. Although it seems that the Scots have a long history in South Africa, dating back to at least the 1880s discovery of diamonds in Kimberley and gold in the Transvaal (a former province in the north east of the country), there didn't seem to be many people around from the mother-country last weekend.
No matter how remote the heritage though, the desire to maintain a Scottish identity does appear to be strong. In fact, there are as many as 15 Scottish Societies spread across the country, an official Highland Dancing Board, and even a 75-year-old Scottish deli in Vereeniging called 'Wee McGregors' selling everything from the inevitable haggis to black pudding and Scotch pies.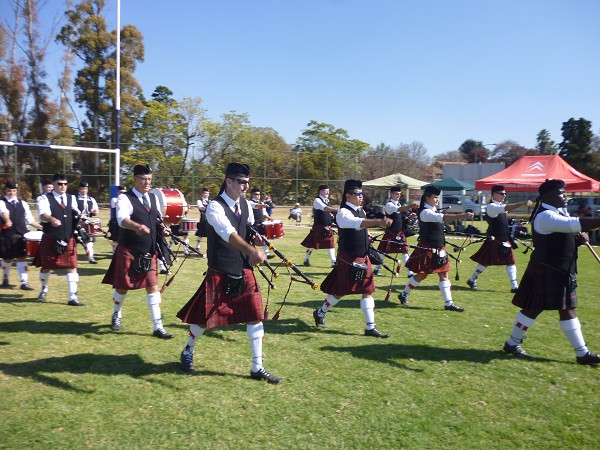 There are also a good many Scottish place-names dotted around the place too, ranging from Gordon's Bay and McGregor in the Western Cape to Orkney in the North West Province and Dundee in KwaZulu-Natal.
The connection is even more marked in the northern suburbs of Johannesburg though, with a six-mile belt of Hibernian-sounding neighbourhoods stretching from Blairgowrie and Craighall in the west to Waverley and Highlands North in the east. So the Scots definitely left their mark here.
Anyway, from our halfway stopover point at the Highland Gathering, it was only a short, if amazingly warm 23-degrees, stretch to the DSTv Food and Music do.
As the music blared out from the stage to greet us, the first thing that struck me were the seemingly endless queues – queues to buy food, queues to buy booze, and the longest and most impressive queues of all snaking their inevitable way to the spotlessly clean ladies' portaloos.
None of your filthy, stinking British festival toilets here, let me tell you, thanks mainly to the hordes of hardworking, and most important of all cheap, labour. But that leads me on to one of the most gratifying, and equally conspicuous, things about the event.
While most of the festivals we've been to have so far been relentlessly white with only a handful of other ethnicities present at best, the attendees at this one were predominantly black. The burgeoning black middle classes were out in force, and they were loving it.
Hope
Although such a situation would barely be remarked upon in the multi-cultural heartlands of the UK, in South Africa, with its very different history and background, you really do notice it.
Not only do black and white of all classes stick mainly to their own apartheid-induced neighbourhoods even today, but economic power still resides in mainly Caucasian hands, with a per capita income differential of nearly eight times (South African Institute of Race Relations).
This means that, while your doctor or lawyer will most probably be white, the person cleaning your house or serving you coffee in a bistro will almost certainly be black. It's very noticeable to an outsider.
So it's no real surprise then that people of different ethnicities still don't mix much here. The 2013 annual South African Reconciliation Barometer Survey revealed, in fact, that just over two out of five people never or rarely chat regularly with someone of a different race.
As for socialising together, it simply never happens for almost a third, while a further 40% do so sometimes or only rarely.
Despite all this though, my Beloved and I found last Saturday's festival to be the friendliest we've been to here bar none – and we've been to quite a few by now. Whether it was chatting with someone about their love of Top Gear on hearing our English accents or having a little dance and a joke with the guys standing in front of us, we had a whale of a time.
While I can't say that the all-British headliners – jazz-funk pioneers, the Brand New Heavies; club favourites, Soul II Soul; and acid jazz combo, Icognito – were quite my musical thing, it really didn't matter too much.
What mattered most was the optimism and hope that the day inspired in both us for the future of this troubled country.