If you ever fancy grabbing a curry, or going on a shopping expedition to find material for your wedding dress, then Fordsburg is the place to go in Johannesburg.
Originally a mining village and later the site of multi-racial slums only a hop, skip and a jump from the town centre, the suburb is now home to Jozi's well-established Indian and Pakistani community – although quite a few Turkish and Syrian people have been popping up there lately too apparently.
But while it may not be one of the city's more affluent neighbourhoods, it is nonetheless one of its more vibrant ones. The scruffy streets, lined with brightly-coloured cafes and shops selling everything from saris to sweetmeats, reminded me a bit of Bethnal Green in London, in fact.
Filled with chatter, the pungent aroma of food mingling with incense, and, at one point, even an imam's rather haunting call to prayer, the area not only feels safe, but also comfortable with itself, despite its poverty – and the influx of beggars taking advantage of Muslim vows of charity in the shape of zakat, the third pillar of Islam.
For example, there's the Delight Bakery, housed in a converted Mennonite Christian church; the Swadeshi one-stop Hindu prayer shop and the guy cooking up betel leaf on a street corner to make paan, a mild narcotic popular all over South Asia.
In this manifestation though, the paan is served with a sweet, syrupy mixture to make it just that little bit more palatable when you chew on it, before spitting it out and turning the pavement red.
Elsewhere, you'll see street hawkers with their arrays of unrecognisable green veg, grown in small allotments nearby or bussed in from KwaZulu-Natal (KZN). There's the vendors selling coconuts from Mozambique and wielding machetes, who lob the top off their fruits so you can drink, before chopping the flesh into chunks when you're done.
And then there's market in the heart of it all, with its stalls full of street food, crammed in among the bling, cheap cosmetics and knock-off designer gear typical of such places.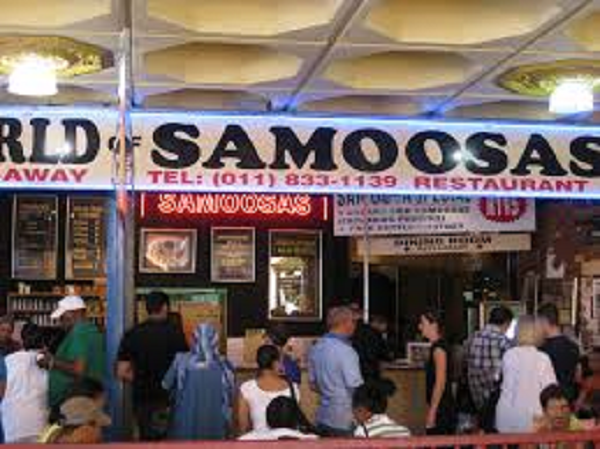 Little India
It's easy to see how Fordsburg earned its nickname, 'Little India' – even if the population does happen to be mainly Muslim, which means, incidentally, that everyone shuts up shop on Fridays between noon and 2pm for prayer.
And that the area, being halaal, is an alcohol-free zone, which can cause problems for corporate tour groups, according to our guide Jo, the owner of Past Experiences, who so impressed us with her trip around Newtown looking at graffiti last week that we decided to give another of her city walking tours a go.
In fact, literally the only restaurant in the area that does serve booze is the Golden Peacock in the nearby Oriental Plaza shopping mall. Which is good apparently, but not nearly as good as the rather more basic places on the streets nearby, Al-Makkah, Al Mehran and the vegetarian, Swaruchi, for instance.
Anyway, it turns out that, like so much in South Africa, the Oriental Plaza, has a bit of a past. The mall, which stretches over five blocks, was built as an experiment in the 1970s by the apartheid government, which forced fabric and garment traders in nearby Pageview – formerly known as Fietas – to relocate from their traditional site in 14<sup>th Street, nicknamed Joburg's Petticoat Lane.
Those who could afford it were allowed to purchase space at the Plaza, making it the only shopping centre in South Africa to be 100%-owned by its shopkeepers. And to this day, it is still considered the place for people of all ethnicities to buy – or barter for – the fabric for their wedding dress.
But the Plaza isn't the only thing that Fordsburg is famous for. It is also the site of the 1922 'Red Revolt', which, following a drop in the gold price, saw Afrikaner miners strike against being replaced by cheaper black labour.
The industrial action, which spread across the country, was intended to overthrow the government, but president Jan Smuts declared martial law and bombed the miners into submission at the current site of the Fordsburg market. There is even a blue plaque on the toilets nearby to mark the historic event.
Big diaspora
As to why there is such a large Asian community in the country in the first place though, that dates back to the 1860s. At this time, Indian people started arriving as indentured labourers, initially to work in the sugarcane plantations of Natal Colony, but later as miners and railway workers too.
As many as 150,000 came to the country over a period of about five decades, but were soon followed by so-called 'passenger Indians'. They were mainly traders who expanded into key commercial centres such as Durban, Johannesburg and the roads in between in order to serve the growing population.
Originally settling in Jozi's Newtown area, the community in the city was shocked by its high levels of crime and prostitution. As a result, on writing to president Paul Kruger to ask for a place of their own, he created the unpolitically-correctly-named 'Coolie Location' for them in 1887.
And, despite forced relocations at different times and under different regimes, not least during apartheid, the community has managed to stay roughly in the same neighbourhood ever since.
Throughout South Africa today though, there are currently more than 1.3 million people of Indian descent – about 2.7% of the country's total population – although few of the younger generation speak anything other than English as their mother tongue these days.
The city of Durban, the capital of KSN, is, in fact, home to the largest Indian community outside of India itself – and is also the place that gave the world that current London favourite, bunny chow.
According to legend, this dis-emboweled hunk of bread filled with a usually mild curry was first created during the apartheid era. As racial segregation laws meant that Indians were prohibited from serving Zulu customers inside any of their eateries, some ingenious soul came up with the perfect solution.
And so it was that the completely edible takeaway was born. Now that's korma...errr karma, I should say.