It's always refreshing to see people using their skills and talents to full advantage - and loving what they do as a result.
And that definitely seems to be the case for Natalie and Orlando Vargas, the husband-and-wife team who set up Sircusynergy, a performing arts company based in Joburg that we happened to see doing their thing last Saturday night.
Located for two evenings at the Crossfit 360 Vida gym in the suburb of Craigavon, the troupe of 14 or so wowed the audience with everything from beautifully choreographed and imaginatively scored dance routines to eye-watering acrobatics and death-defying aerial stunts using a range of trapeze, silks and nets.
My favourites though had to be the guy seemingly using every bit of his upper body to juggle a huge cube that changed colour with the light, and a punky-looking pole dancer who climbed, slid and plunged her way up and down her equipment in a fashion that managed to be both sensual and seriously acrobatic at the same time.
Anyway, the idea behind the show entitled "Urban Circus" was to portray ordinary city people living ordinary city lives who, with a bit of imagination, could end up doing extraordinary, fairy tale things.
And nowhere is this concept more pertinent than in Joburg, Natalie believes, where a lot of people don't seem to do much beyond having a few drinks on a Friday night, braai-ing and shopping.
And I would tend to agree. When we moved up to Jozi from the Cape, one of the things that I'd been looking forward to most in the "big city" was indulging in a bit more culture, particularly the theatre and performing arts, which I love.
But so far, I must admit I've been sadly disappointed. It may be that I'm just looking in the wrong places, which is always a possibility, or maybe it's a demand thing, but there just doesn't seem to be that much going on.
Culture
And what there is appears to lurch from one extreme to the other - either light entertainment a la Disney on Ice or stuff that's really pretty dour. Whether you're talking about plays, photography exhibitions or even novels, a lot of culture here seems to be focused on apartheid, what it was like during apartheid, the after-effects of apartheid etc etc.
Which is understandable seeing as the regime only collapsed a generation ago leaving deep societal scars that in many cases have yet to be healed. It's just that it seems so ubiquitous and ending up traumatised isn't necessarily what you always want on a Saturday night.
Anyway, one of the lovely things about Urban Circus was that it was lively, sassy and upbeat – and much more raw than South Africa's current Cirque legend, Madame Zingara, where Natalie and Orlando worked in the early days, before leaving the Cape for Johannesburg to set up Sircusynergy.
They now earn their crust putting on corporate events and offering circus training to both kids and adults, many of whom are part-time artistes and form a pool of talent that can be accessed for shows.
But they also do their bit for the community, teaching performance skills to children from disadvantaged backgrounds in a bid to help boost their confidence and provide them with tools for self-expression – or even start out on a possible career path. It's great.
Another idea that I really liked though was using the CrossFit 360Vida gym, where many of the performers train, as a kind of pop-up venue.
Not only did it look suitably urban with its high ceilings and steel pipes everywhere, but it's a great use of space outside of working hours – and one that the UK, given its crippling cuts to arts budgets outside of London, could perhaps learn a trick or two from, if it hasn't already, that is.
A further unusual spot that we found ourselves at this weekend, meanwhile, was L. Ron Hubbard's former residence, sited on Linksfield Ridge near the Chinese neighbourhood of Cyrildene, where we decided to go for a spot of lunch before our by-appointment-only tour.
Linksfield Ridge House
For those of us who don't know who L. Ron Hubbard is, he was the controversial founder of the Church of Scientology and a prolific writer of science and pulp fiction.
In fact, he was entered into the Guinness Book of Records an amazing three times for his pains – as the world's most published and translated author and the author with the most audio books under his belt.
Anyway, it seems that Hubbard moved to Johannesburg for six months or so in the early 1960s in order to sort out the underperformance of his organisation there.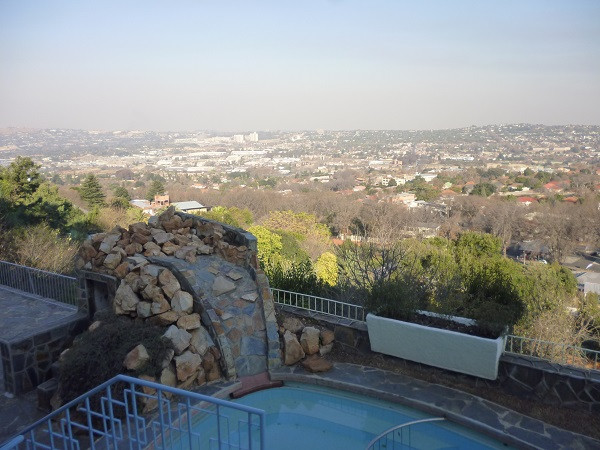 And during his time in the city, he rented the lovely Linksfield Ridge House. Thought to have been designed by an acolyte of Frank Lloyd Wright, it was built by a Greek timber merchant about a decade before and has stunning teak parquet flooring in the living room to prove it.
The place has since been purchased by the Church of Scientology - along with four other residences in the US and UK - and restored to its original glory following a series of insensitive alterations, based on film footage taken by Hubbard using a Bolex 16mm movie camera.
And it's been made into a museum to his memory, preserved just how it was when he lived there and full of tasteful and very collectable 1960s furniture - with the addition of various cabinets of memorabilia in what were the bedrooms, of course.
A fine example of an affluent Joburg home of the period, in fact, and one of the few left in the city apparently. But one greatly enhanced by the glorious views from the French-door-fronted living room and enormous balcony overlooking downtown Johannesburg, perched as the house is on the side of a reasonably substantial hill.
For those interested in such matters, there are also insights aplenty into the workings of Scientology as well as a go on an "E-Meter", which, like a lie detector, appears to measure physiological responses and apparently lets you know whether you're suffering from spiritual blockages caused by past experiences.
Not really my thing, I must confess, so I can't imagine converting any time soon. Still, exactly who was it that said there was nothing to do in Joburg?