I've never been a huge fan of art galleries – or museums for that matter.
Although I know lots of people disagree with me and are horrified by my philistine notions, I find them a bit sterile, full of too many pictures or artefacts stuck on walls or in cabinets with no real context and very little explanation.
Because I'm a big story girl – I really do like my narratives. Tell a story around something and you can make even the most boring facts or abstracted objects d'art seem interesting.
The thing is that, to me, art is all about communication. Which means that to get it beyond a simple, gut-instinct-based "I like it or don't like it" thing, you need to understand the context, the ideas behind it and where things fit together. Otherwise you're just gawping at random things with arbitrary values assigned to them by often capricious "experts".
So, with that in mind, I must admit I was pleasantly surprised by the story-telling nature of the "Migrant Journeys" exhibition held at Wits – short for the University of Witwatersrand - Art Museum in Joburg's trendy downtown area of Braamfontein this National Youth Day (16 June) weekend.
Youth Day, which like so many of South Africa's public holidays is Struggle-related, happens to be particularly poignant in that it marks the start of the Soweto Riots in 1976. The uprising was sparked by an edict from the apartheid government that all teaching in black schools had to be undertaken in Afrikaans.
But it ended up in international condemnation of the regime after an iconic picture of 13-year-old Hector Pieterson, who was shot dead by police during a peaceful protest march, was beamed all around the world.
Although 16 June was associated with resistance for many years, the message has now thankfully been turned into something more positive, with the holiday meant to remind South Africa of the importance of its youth.
Decidedly bite-sized
Anyway, given all that, the multimedia-based exhibition at Wits Art Museum about the lives of migrant workers who built the country's economy from the sweat of their brows, seemed strangely appropriate.
Because, it seems that the whole thing came about through social engineering anyway. The colonial authorities, on deciding they needed cheap labour to extract the gold and diamonds discovered across southern Africa, imposed a so-called "hut tax" on black communities.
The tax not only raised revenues to fund colonial activities, but also forced people to leave their rural homesteads and move to urban centres to find work in order to pay it – a migration that still continues to this day.
But what struck me most about the exhibition was just how, despite the ugly treatment metered out to them, people still found it within themselves to create beautiful things.
In fact, the geometric patterns of Zulu and Xhosa beadwork laced into everything from pipes and necklaces to jackets and belts, reminded me very much of the designs found in Native American Navaho arts and crafts. Amazing really when you consider the distance between the two continents.
As for the gallery itself, being billed as the "leading Museum of African art on the African continent", I'd expected it to be massive. But, refreshingly, it was decidedly bite-sized. So doable and relatively petite, in fact, that we thought we'd missed something.
We even came back next day to see if we had, but were reliably informed by the guy on the door that the decidedly white-coloured, three-storey space was definitely all there was. So we took his word for it.
Our second cultural experience of the weekend, meanwhile, took place at the Johannesburg Art Gallery. Again grandly pitched as "the biggest gallery on the sub-continent", my Beloved and I were expecting the equivalent of the Tate in London or the Louvre in Paris.
Instead what we found was a lovely neo-classical building designed by British architect, Edward Lutyens, which seemed at once both remarkably empty and distinctly marooned.
Downtown art
Built in 1915 when downtown Joburg was at its peak, the beautiful building now appears abandoned to its fate in the middle of rundown Joubert Park - despite the security gates surrounding it.
The Park, established in 1887, is the largest and oldest in the city and was once home to an open-air theatre, little lakes full of fish and a Christmas theme park. But the theatre is now abandoned, the fishponds empty and the grass covered with poor inner city residents, sleeping it off in the sun.
It doesn't feel particularly safe, with the whole dodgy neighbourhood in distressingly marked contrast to the grandeur of the sandstone cultural edifice only a few steps away, a place where even the rather dowdy paintings seem careworn. I wouldn't recommend it.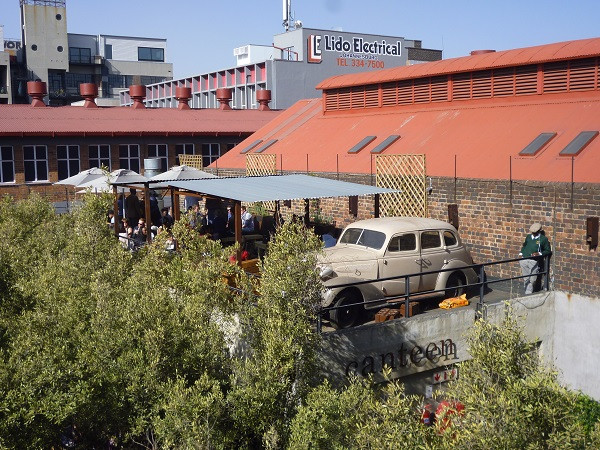 Much less depressing though is the site of our new, favourite market and lunch spot. Market on Main at the Arts on Main centre is located in another downtown regeneration spot, the Maboneng Precinct, a stone's throw from Braamfontein.
Formerly a bunch of dilapidated warehouses and offices dating back to the 1900s, Arts on Main has now been transformed into an airy complex, housing everything from art galleries and private studios to boutique-y shops selling designer gear and homeware.
It's even got its own microbrewery called Smack! Republic and plays host to German cultural organisation, The Goethe Institute, which puts on different plays there.
And of course, there's Sunday's Market on Main, with its ground floor food extravaganza and upstairs clothes and hand-made jewellery stalls.
It's fab. Lively and buzzy and quirky and bright. Definitely a case of urban culture by the living rather than art by the dead.