If I were going to use one word to describe our exploits last weekend, it would have to be "posh", with the reason behind such wanton extravagance being several-fold.
Firstly, what with one thing and another, my beloved and I have had a tricky few months, which meant that we felt ourselves entitled to a wee bit of pampering. And secondly, it was my official birthday weekend, which meant that major treats were in order, just because they were.
So after a rather refined breakfast of scrambled-egg-and-smoked-salmon-laden croissant in a café near our Parkhurst home, we made our way to the nearby smart Hyde Park Corner shopping mall to buy a dress for myself.
The reasoning behind such a purchase was, in fact, the decided lack of anything sophisticated in my wardrobe, which always sparks a minor panic attack on the rare occasion that we happen to go anywhere demanding elegant attire.
But it turned out that Hyde Park Corner was a little too upscale – even for the likes of me in my new-found state of classiness. Full of older women in two-piece Armani skirt-suits and young females dressed with expensive insouciance, it was more Burberry and Max Mara than my usual Zara and Cotton On.
But it must be said that, whether upmarket or downmarket, I do struggle a bit with the whole South African clothing thing. Rather too cutesy, preppy and/or big-and-grown-up for my taste, I also find many of the colours a bit bold in comparison to my usually more reticent palette.
But I also don't find the quality that good either. In a similar mode to Australia, both apparel and accessories are often either a bit cheap-and-nasty with lots of manmade fibres everywhere, or really quite expensive – with not a great deal in between.
As both countries are quite remote from everywhere else though, I'm guessing it must be a distance thing, with all of the additional costs that entails.
Doing it with style
But I do miss the rather more individualistic styling of the UK's mid-priced high street gems such as Oasis and River Island, the first South African store of which has just materialised at our local mall in Rosebank to great fanfare – and comparatively high prices, it should be pointed out.
Because, surprisingly for a big city, Joburgers just don't really seem to do fashion that much. Unlike the streets of London or New York, where trends matter and distinctive, idiosyncratic style is, for many, a way of life, most people here appear to play it safe – despite seeming to spend just as much time on retail pleasure as their European counterparts.
Anyway, on drawing a blank on the dress front, it was time to move on to lunch. And for our culinary delight, my Beloved had opted for the six-course tasting menu at the upmarket dw-eleven–13 restaurant in Dunkeld, about half-an-hour's walk from home.
Tasting menus are something that I happen to have acquired a liking for since indulging in my first at Nobu at the V&A Waterfront in Cape Town a couple of months back.
Because, in my view, it truly is amazing just how much a carefully-chosen wine can complement and transform even the most mundane of dishes into something above and beyond – a task undertaken to perfection by our undoubtedly up-and-coming, young sommelier, Mandla Patson Mathonsi.
In fact, the only disconcerting thing about the whole experience was the restaurant's setting. Although once inside, the decor was perfectly pleasant with its modern furniture and metallic murals of trees, outside it was somewhat less inviting.
Situated opposite an ugly, concrete multi-storey car park in a nondescript retail space in the Dunkeld West Shopping Centre that you could easily walk on by without noticing, it was just as well that they kept the blinds drawn.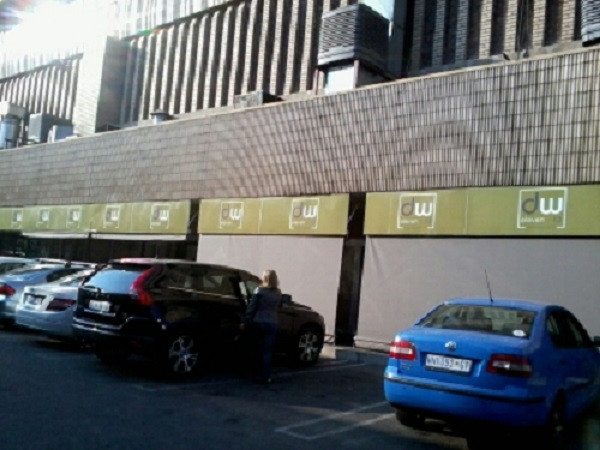 But it must be said that this South African habit of siting upmarket restaurants in the rather unprepossessing environment of a soulless shopping mall is something that, as a European, I doubt I'll ever get used to.
The Game of Kings
To layer the final bit of poshness on top of poshness, meanwhile, we took a novel jaunt on Sunday to watch a polo tournament – the Prince of Wales Cup, no less, held in the Waterfall Equestrian Estate in Kyalami right out in Midrand, not far from Pretoria.
Although generally held in Kwa-Zulu Natal, it was the first time that the three-day inter-province contest had taken place in Joburg, with its aim of choosing four worthy members to star in the South African National team.
Given that the "Game of Kings" usually costs an arm-and-a leg-to watch back home in the UK, it was also the first time that I'd witnessed the game. But with tickets at a mere R200 (£11.30) – or a huge jump to R4,200 (£237.70) for access to the VIP marquee, although we weren't feeling that sophisticated – it appeared too good an opportunity to miss.
And even with my limited knowledge, it seemed like quite an exciting sport. Lots of fit men pounding around the place on ponies, attempting to wack balls into big, green goals with little mallets – what's not to like? And that from possibly the most un-sporty person in the world.
I even learned some new vocabulary in the process – a chukka, for example, is a seven-minute interval of play, of which there are six to eight in a match, each interspersed with their own three-minute-long rest period.
Moreover, it seems that this ancient sport was introduced to the country by the British army in October 1874, when the Gordon Highlanders played the Cape Mounted Rifles at the Parade Ground in Cape Town – although bizarrely both were infantry regiments rather than cavalry ones.
Maybe because of its history, it seems that polo remains just as much a niche, elitist pastime in South Africa as it does elsewhere.
Although there may be as many as 38 clubs across the country, total membership only amounts to about 450 players – of both genders – although the South African Polo Association, which was set up in 1905, appears keen to attract more.
A fact, which just goes to show that maybe, just maybe, it's possible to be too posh after all.