It strikes me that, even if there's money for nothing else, the two things that should always be invested in are health and education.
Health because it's fundamental and without it, at both the individual and national level, you're on a hiding to nothing. And education because the future economic and cultural wellbeing of citizens, communities and states across the world depends on it.
So with this in mind, I found myself duly impressed by the valuable work being undertaken by San culture and education centre !Khwa ttu, which I visited during my trip to the Western Cape a couple of weeks back.
Situated in an 850-hectare nature reserve about an hour's drive north of Cape Town on the R27, the organisation, which is majority-owned and run by the San themselves, provides an annual nine-month residential tourism and training programme for members of this disadvantaged indigenous community.

Each year, skills instruction is provided to 20 people aged between 18 and 40 from across southern Africa - where they are also known as Bushmen - in everything from literacy and marketing to hotel management and community development.
Participants are likewise provided with invaluable hands-on experience of their chosen vocation in !Khwa ttu's offices, restaurant, guest house and conference facilities.
But they also have the opportunity to act as tour guides, showing visitors around a replica village, discussing heritage and folklore and explaining the medicinal uses of various plants in an effort to educate people about the San's traditional ways.
!Khwa ttu itself, meanwhile, started life in 1998 when the Working Group of Indigenous Minorities in Southern Africa (Wimsa) partnered with the South African San Institute to kickstart the project.
A year later, anthropologist Irene Staehelin also joined the party, setting up the Switzerland-based Ubuntu Foundation to help with funding.
Success story
The Unbuntu Foundation subsequently bought the farm that was to become !Khwa ttu - which means "water hole" in the now extinct, local !Xam language - and which my San tour guide Andre Antonio reliably informed me was actually situated on ancestral land.
He also told me, rather shockingly, that until 1873 when the last of the San were eradicated from the Cape, it was possible to purchase a hunting licence in Cape Town to shoot them down and kill them. In fact, the practice seems to have gone on all over southern Africa, with the last hunting permit issued in Nambia as late as 1936. Appalling.
On a more positive note though, it seems that Andre himself is actually one of !Khwa ttu's success stories. Originally hailing from Kimberley in the Eastern Cape, he is one of the 40 or so full-time staff now employed at the centre.
But as well as having ambitions to run a hotel in Berlin, Andre is also fast developing a local and international music career after recording various tracks at !Khwa ttu's very own recording studio, San Sound Records, and travelling extensively as a result. And he's still only 22.
Another inspiring educational initiative that I've been involved with since the start of the year, meanwhile, is The Link.
After having spotted an article in local newspaper, the Rosebank Killarney Gazette, which indicated that the charity was looking for volunteers to help teach literacy to disadvantaged kids, I thought, being a semi-trained adult literacy teacher myself, that I'd give it a go.
And as luck would have it, it turned out that one of the nine schools included in the scheme was Parkhurst Primary, which is just five minutes down the road from us.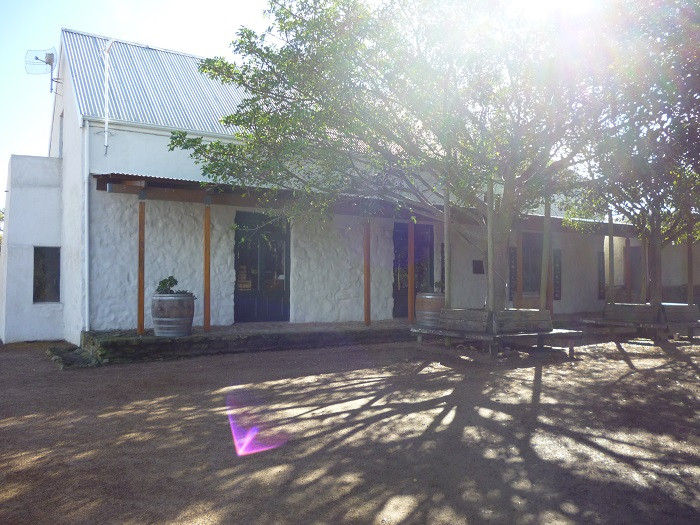 Positive experience
While Parkhurst is scarcely a deprived neighbourhood in and of itself, it seems that the school's 542 pupils are all bussed in from historically disadvantaged areas such as the Soweto and Alexandra townships - although with school fees as high as R6,500 (£350) per learner per year, a lot of money for the average South African, I'm guessing that most of the children come from middle class families rather than anything else.
Because from what I've gathered, the quality of education that you get in South Africa depends very much on your ability to pay. So if you live in a poor rural area in Limpopo and have very little income, for example, you won't have to fork out for school fees, although you will still have to buy books, uniforms and the rest.
The problem is though that your teachers are unlikely to be anywhere near as well qualified as those in more prosperous neighbourhoods, which can end up simply entrenching disadvantage.
But the fees charged to parents in wealthier areas also seem to vary quite widely depending on how much subsidy an individual school receives from the government. This means that even more affluent parents can struggle to send all of their children to a good school in their catchment area if a number are of a similar age.
Anyway, the kids that I help out with at Parkhurst Primary are Grade 2s (seven-year-olds) who are in the lower quartile of their class in literacy terms.
During two separate sessions of 45 minutes each, the 15 or so volunteers, including myself, hear either one or two of the learners read, play literacy games with them and finish off by reading a story to them twice a week.
It's all very heart-warming, especially as the kids always love to cuddle in and give you a big hug at the end - something that would never be allowed in UK schools these days. You're not even the equivalent of CRB (Criminal Records Bureau)-checked here.
And it must be said that the children do amazingly well considering that English, the elected medium of education in this particular school, isn't their first language - that's more likely to be Zulu or SeSotho.
In fact, the progress they've made in the short time that I've been there is quite incredible. It's amazing what a little bit of attention and a wee bit of praise can do. But then that probably applies to us all.