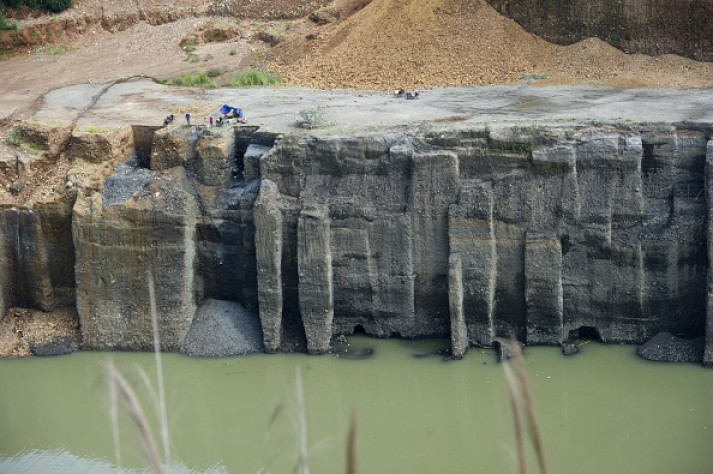 At least 90 people have died and more than 100 are still missing in a landslide that took place near a jade mine in northern Myanmar. Most of the victims were villagers, who were crushed under a 300 metre pile of waste rocks -- accumulated during the mining process -- that collapsed in Hpakant township of Kachin state.
"We found 79 dead bodies on November 21 (and) 11 today so the total so far is 90," Nilar Myint, an official in Hpakant, was quoted as saying by Agency France-Presse. The collapse of the waste rocks also destroyed around 50 houses in the area, which is 350km north of Mandalay city. Earlier this year, at least 12 people were killed in a similar incident at Hpakant, which is the world's largest jade mine.
Speaking to Associated Press, Brang Seng, a jade businessman, said the collapse happened on Saturday (21 November) afternoon in Kachin state and added, "There were more than 70 [dead]. This is awfully bad."
Hpakant produces about 90% of the world's jade bringing in billions of dollars into the country. According to reports, jade worth $31bn (20.1bn) were extracted from mines in Myanmar last year, which is almost half of the country's GDP. Moreover, in the past decade, gemstones worth $120bn have been mined in Myanmar.
The region of Hpakant, however, is underdeveloped and in urgent need of basic amenities such as proper roadways and stable electricity. Reports also suggest that the billions of dollars that are earned from these mines go into the pockets of the junta-era military elite, who directly or via close ties operate most of the country's mines.
Transparency campaigner Global Witness has accused the junta-era military elite and jade mining firms to have carried out "the biggest natural resources heist in modern history".
"Industrial-scale mining by big companies controlled by military families and companies, cronies and drug lords has made Hpakant a dystopian wasteland where locals are literally having the ground cut from under their feet," Mike Davis of Global Witness said.
Almost all of the best quality jade mined in Myanmar is directly smuggled to China, where it is valued higher than most precious stones and where its demand has been on the higher end.