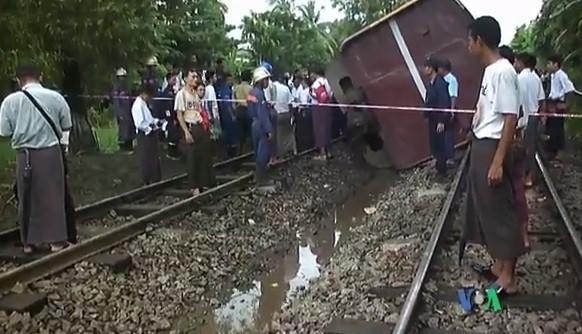 Twenty five people have been killed in a train crash in Myanmar after a derailed tanker burst into flames.
The train was travelling in northern Myanmar close to the Indian border. It was hauling seven carriages of gasoline and two carriages of diesel.
People were trying to siphon fuel from the overturned carriages when the fire broke out.
The train crashed near Kantbalu, which is around 500 miles north of Yangon. It was travelling to the Kachin state capital of Myitkynia.
State television says a further 62 people were injured in the accident, which took place on Friday morning.
One witness, Myint Kyi, told Radio Free Asia that the dead included 16 men, seven women and two people who were so badly injured their gender could not be identified.
The accident's cause is unknown and the injured are being treated in hospital.
Another tragedy struck Myanmar earlier this week when a boat carrying up to 100 Muslim Rohingya refugees sank on its way to Malaysia. The passengers were fleeing persecution in Myanmar.
The train crash also follows news that Barak Obama is to become the first-ever US president to visit the country.
His trip, which is scheduled for later this month, was "warmly welcomed" by the national government.
Presidential office spokesman Maj Zaw Htay, said: "[The] support and encouragement by the U.S. president and American people will strengthen the commitment of president Thein Sein's reform process to move forward without backtracking."