An online retailer is selling a variety of merchandise with the face of notorious child killer Myra Hindley. The items, by artist Paul Nelson-Esch, are being sold online at Los Angeles-based store Society 6.
The shop sells T-shirts, bags and phone covers adorned with the face of the infamous Moors Murderer, who along with Ian Brady tortured and killed five children before burying their bodies on Saddleworth Moor, outside Manchester.
The designs have left may people angry, saying the designs are distrespectful to the families of Hindley's victims. One user commented on the Society 6 page where the items are listed: "I am utterly disgusted that these are on sale. I live in the area where the murders took place and Hindley and Brady are hated for what they did. This is disrespectful to the memories of the children they murdered and insensitive to the families left behind. I hope you remove these for the offence you are causing."
A second user added: "Are you sick in the head? Do any of you stupid Yanks actually know who this woman is? How were you able to get away with this?"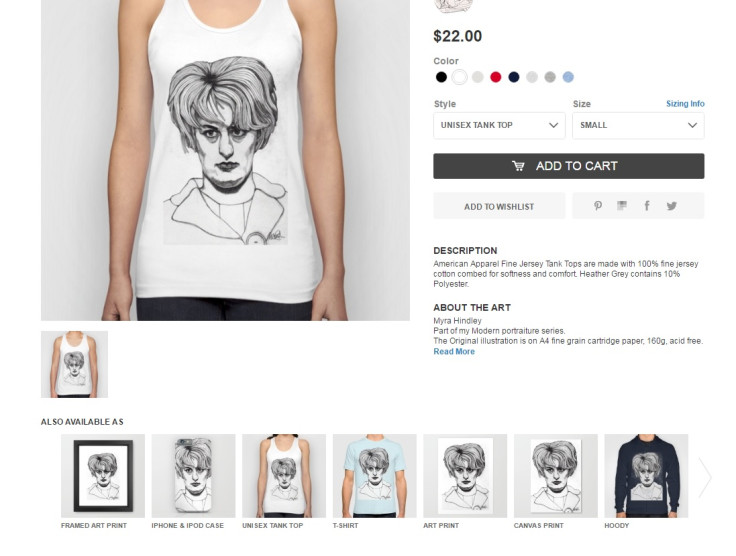 Portugese born artisit Nelson-Esch describes his work as "inspired by music, literature, cinema and pop culture". He adds: "It is all in the eyes and facial expressions. Design references that are from the left of centre to the mainstream. Simple, clean and modern."
Neither Nelson-Esch or Society 6 have returned a request for comment when contacted by IBTimes UK.
Brady and Hindley were jailed in 1966 for murdering Edward Evans, 17, Lesley Ann Downey, 10, and John Kilbride, 12. The pair later admitted in 1987 to also killing Pauline Reade, 16, and Keith Bennett, 12. Hindley died in prison in November 2002, aged 60.