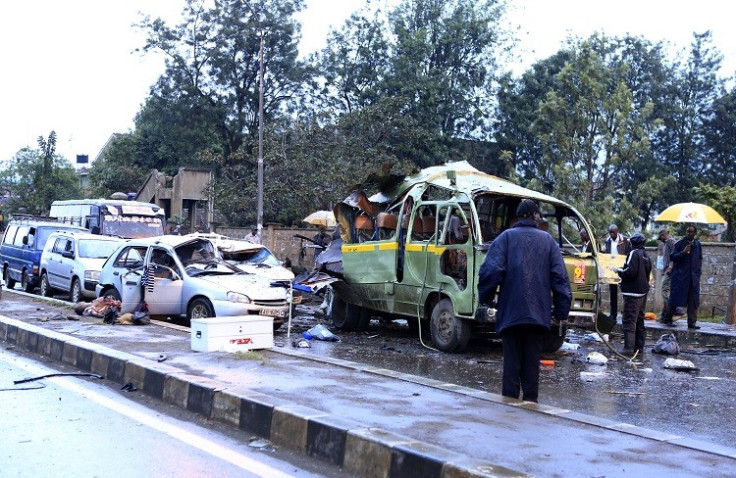 At least six people have been killed and 30 injured in a suspected bomb attack on a minibus in Nairobi, Kenya.
Ten people remain in a critical condition after a grenade exploded on a crowded bus, causing a six-vehicle pile-up, at 5.45pm on Saturday in the Somali neighbourhood of Pangani, near to a girls' school.
No group has claimed responsibility for the attack but detectives are interrogating a suspect.
Nairobi police chief officer Benson Kibue said: "We are still investigating and we have one suspect who was arrested soon after the incident. He is assisting us in the investigations."
The interior ministry said via Twitter: "A group of assailants threw a grenade into a bus with 32 seats.
"The attack is an unfortunate and cowardice incident which will not be tolerated."
It said it was now appealing for information from the public.
One witness, Peterson Mwaura, said, "I was passing waiting for the traffic to clear so I can cross, then I heard a loud explosion and metals and other pieces from the vehicle were flying all over this place, and people shouting.
"I ran back. People were crying for help, they were screaming, but the one lying here (at the scene) appeared to have died on impact."
It is the first attack in the capital since the deadly terrorist mass shooting on a Nairobi mall in September, which killed 72 people, including 61 civilians, six Kenyan soldiers and five attackers, and injured more than 200 people.
The al-Qaida-linked Islamist group al-Shabaab claimed responsibility for the assault. But no suspects were charged as all the gunmen had reportedly been killed.
On 4 November, a Kenyan court charged four Somali nationals with harbouring the slain gunmen in their homes, with each of the accused pleading not guilty.
Kenya has been the scene of multiple attacks since 2011 when it sent its military into Somalia to fight al-Shabaab. Grenades have been thrown at bars or restaurants in Eastleigh, parts of Mombasa and key border towns of Waiir and Mandera.
On Friday night, one person was killed and three others wounded after twin blasts went off in Wajir town, in an attack blamed on al-Shabaab or its sympathisers.
Last year, an attack on a minibus in Eastleigh - often referred to as Little Mogadishu for its high number of Somali residents - killed at least seven people.