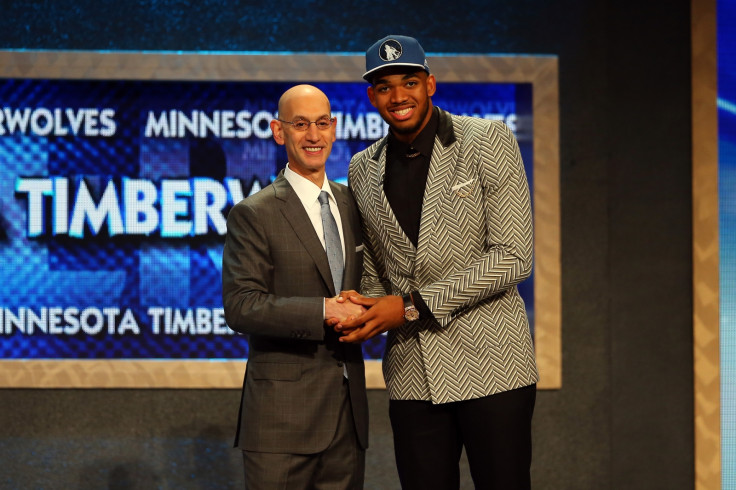 Karl-Anthony Towns was selected by the Minnesota Timberwolves with the first overall pick of the 2015 NBA draft.
Towering centre Towns, long touted as the top pick prior to the event, was one of four Kentucky Wildcat stars to be taken in the lottery at Barclays Center on 25 June, with Willie Cauley-Stein falling to the Sacramento Kings, Trey Lyles picked by the Utah Jazz and Devin Booker heading to Phoenix.
As a result of the deal that saw Kevin Love sent to the Cleveland Cavaliers in the summer of 2014, the Timberwolves can now boast the last three number one picks, with Towns joining Anthony Bennett and Andrew Wiggins in Minneapolis.
The 2015 draft was particularly unique with several of basketball's most stories franchises on the clock early.
The Los Angeles Lakers selected Ohio State point guard D'Angelo Russell with the second pick, while the Philadelphia 76ers added Duke's Jahlil Okafor to an already impressive stable of big men that includes Nerlens Noel and the injured Joel Embiid.
The decision by New York Knicks president Phil Jackson to take Latvian Kristaps Porzingis at four provoked a strong reaction from fans inside the arena in Brooklyn, while Mario Hezonja to the Orlando Magic rounded off the top five.
Denver Nuggets and Detroit Pistons take their picks
Emmanuel Mudiay, the guard who impressed in China last season, was drafted by the Denver Nuggets with the seventh pick before Arizona small forward Stanley Johnson was selected by the Detroit Pistons.
Meanwhile, Wisconsin's Frank Kaminsky was snapped up by the Charlotte Hornets at nine, with the Miami Heat opting for Justise Winslow.
Satnam Singh Bhamara became the first ever Indian-born player to be drafted after being taken by the Dallas Mavericks with the 52nd pick.
As is often the case on draft night, several teams also engaged in a number of trades throughout the evening.
The Milwaukee Bucks acquired point guard Greivis Vasquez from the Toronto Raptors in exchange for the 46th pick, which later turned out to be UCLA's Norman Powell, and a 2017 first-round pick.
Other headline deals included the Atlanta Hawks swapping their first-round pick with the Washington Wizards.
The Hawks drafted Jerian Grant and the Wizards took Kansas' Kelly Oubre. However, Grant later ended up with the Knicks after further negotiations that saw Tim Hardaway Jr sent to last season's beaten Eastern Conference finalists.
Later in the night, veteran Portland Trail Blazers point guard Steve Blake was dealt to the Brooklyn Nets for a package led by Mason Plumlee.