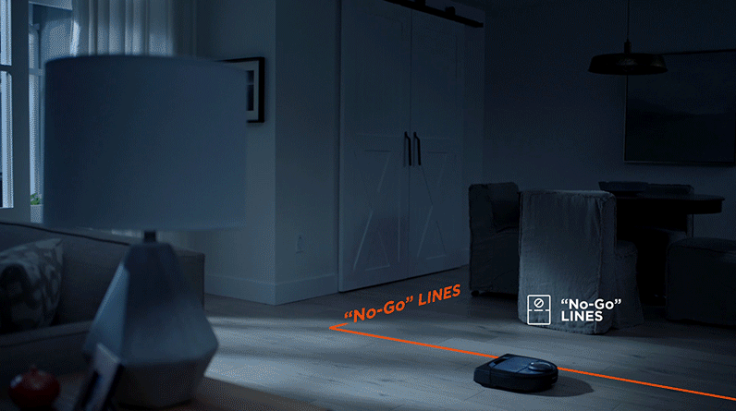 Neato Robotics has introduced a new Botvac that looks to fix a flaw that has plagued robot vacuum cleaners since their invention.
Unveiled at IFA 2017 in Berlin, the D7 Connected is the latest D-shaped smart dust guzzler to come from Neato as an alternative to rival robot vacuum cleaners from Roomba and industry giant, Dyson.
The robot cleaner boasts various smart home-friendly features, including compatibility with Google Assistant and Amazon Alexa, as well as IFTTT support for those looking to fine-tune their robo pal's cleaning schedule.
Its best addition however, lies in its improved room-mapping sensors and an update to its accompanying smartphone app that lets users lay out "No-Go" lines to virtually block off areas from the D7's cleaning excursions.
Neato's current range of Botvacs already support what it calls Cleaning Maps, which are visualisations of your house's floor-plan based on its previous outings or via a cleaning-free Discovery Mode scan.
In its current form, Neato's Botvacs function in a similar way as other robot vacuum cleaners in that it will gradually learn where obstacles are and avoid them in future. For objects that could potentially cause damage to the Botvac - most notably anything with water in it, or, most importantly, stairs - owners had to lay down physical boundary lines, either with the packaged magnetic strips or by more primitive means, like closing doors or setting up a makeshift shoe fort (we've done this).
While Roomba's robot vacuum range offers a slightly more high-tech solution with its "Virtual Wall Lighthouses", this still involves placing sensors in places where the cleaner is not welcome. Dyson's 360 Eye, on the other hand, uses its own internal sensors to avoid drops, but is more than happy to knock over a pet's water bowl if left to its own devices.
The D7's "No-Go" lines are an elegant solution then, as Neato claims it is as easy as drawing boundary lines on the virtual map that pops up on your smartphone. The catch is that the D7 will set you back £799 ($799 in the US and €899 in Europe), which makes it one of, if not the most expensive robot vacuum cleaners to hit the market.
Its unclear whether or not the "No-Go" system will be added to other models with the upcoming Neato app update, although the company hinted in a tweet that it could be on the cards.
"The Botvac D7 Connected represents a significant step forward in the future of the smart home," said Giacomo Marini, Chairman and CEO at Neato Robotics, in a statement. "The Botvac D7 Connected contains all of Neato's top-of-the-line features and introduces industry-leading technology with the addition of Neato FloorPlanner."
"This follows our industry first announcement of Alexa and Google Home integration for our Botvac connected series. The Botvac D7 Connected has been built to connect with a broader suite of connected services, cementing Neato's place at the forefront of the SmartHome ecosystem."
Neato's Botvac D7 Connected launches in the UK, Europe and the US in Q4 2017.