A mobile app that offers dates for hire is seeing a sharp increase in business in the lead-up to Chinese New Year eve, as men rush to rent girlfriends for hire to present to their families at the traditional Reunion dinner.
The iOS app Hire Me Plz offers paid dates ranging from as little as 1 yuan ($0.15, £0.12) up to 1,999 yuan an hour. You can hire a date to play a game of mahjong, give you a foot massage, have a chat or go out for dinner, and single Chinese women in their 20s are able to earn as much as 10,000 yuan a day to go on these dates.
The Chinese Lunar New Year, celebrated by the Chinese peoples all over the world, starts this year on 27 January, which is Chinese New Year Eve.
On this night, it is traditional for all members of the family to reunite and have dinner together.
Many single adults face pressure from their families to have a steady partner, making their way towards marriage and settling down to start a family. An instant girlfriend or boyfriend hired for the day, or weekend, to appease parents and relatives is well worth the expense.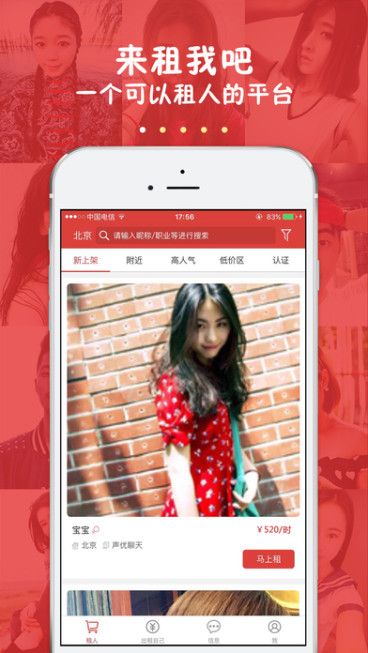 "Over 1,000 users on our platform have signed up as dates for hire for the New Year break," Cao Tiantian, Hire Me Plz's founder told Reuters. "Our business model is still new, though an increasing number of young people have accepted the idea of selling their time as commodity."
Launched in 2015, Hire Me Plz now has 700,000 users. The app developer makes money from subscription fees, as well as by taking a cut from each "date for hire" job – a similar tactic to the five other major date rental apps now thriving in China.
Prostitution is illegal in China and none of the mobile apps offer sex as a service, however, Chinese state media has recently taken to warning users about the risks they take by offering their time up for hire, as it is sometimes difficult to define when an act of intimacy is actually an act of sexual assault.
Cao said that her app was meant to assist young people who have left home to work alone in China's biggest cities. So, rather than users looking to immediately meet someone on an online dating site or dating app – paying for their time in an initial introduction, or even receiving a request for their time, could make people feel more comfortable in asking someone out on a date.