Blizzard has officially released a trailer for hit online shooter Overwatch's Year of the Rooster event, which starts today. Created to mark the Chinese New Year, the event will include new character costumes, items and a new mode.
Said new mode is called Capture The Rooster, which for all intents and purposes is a version of classic FPS mode Capture The Flag, but with a flag adorned with the symbolic animal from the Chinese Zodiac.
The trailer is so far only available in Spanish, but we'll update with the English version when it becomes available. The video confirms that the event will run from today (24 January) until 13 February.
Focusing on the game's three maps located in the Chinese city of Lijiang, the trailer shows off a few of the new skins that will be made available for its cast of 23 unique heroes.
We're particular fans of Bastion's paint job, Winston's operatic face paint and Junkrat hoarding a load of fireworks.
Fireworks are a feature of some of the new victory poses, which we see for Sombra, Bastion, Junkrat, Mei and Ana. Tracer also pops out of a Chinese dragon costume in what we can assume is a new highlight intro for the character.
New player icons and sprays are also seen before Capture The Rooster is introduced. While there are no firm details on how the mode will work, it appears that both sides will be tasked with getting their flag to the opposing team's base without the other side being in possession of their flag at the time.
This year's Chinese New Year falls on Saturday 28 January.
Year of the Rooster will be Blizzard's four major seasonal Overwatch event, following the Olympics-themed Summer Games event and later events based on Halloween and Christmas.
The new mode, as well as items and skins made available during each event in Loot Boxes, will no longer be available after the event ends.
Blizzard announced the Chinese New Year event last week (19 January).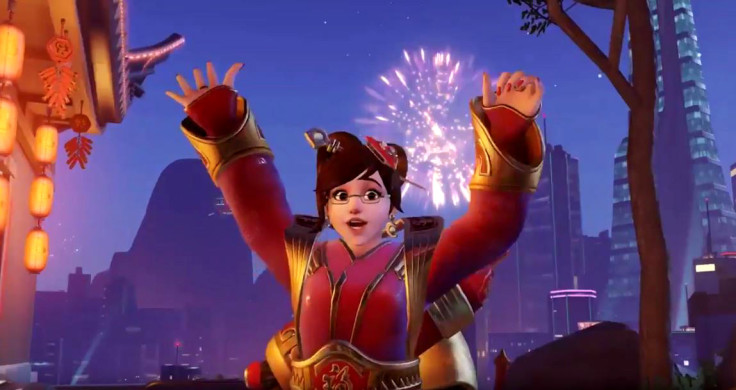 For all the latest video game news follow us on Twitter @IBTGamesUK.