Negotiations with militants affiliated to Isis are unlikely to help the Filipino government liberate the besieged town of Marawi , a counter-terrorism expert has told IBTimes UK.
David Otto made the remarks as the Philippines ruled out the possibility of negotiating with Maute militants after reports suggested a rebel leader wanted to trade a Catholic priest – believed to be held hostage by the group – for his parents, currently held by police.
The priest is understood to be Father Teresito "Chito" Suganob, who was abducted along with other civilians when Maute militants raided Marawi in May. The army said Suganob was seen alive on 25 June in parts of the town still held by militants.
Abdullah Maute, one of two brothers who formed Maute, told religious emissaries on Sunday (25 June) that he wanted his parents freed in return for Suganob.
However, presidential spokesperson Ernesto Abella said negotiations were out of the question.
"The government policy not to negotiate with terrorists remains, hence the local religious leader-led talks with terrorists last Sunday was one not sanctioned by government, the military and our political leaders," Abella was quoted by Reuters as saying on Tuesday (27 June).
"Any demands made inside, therefore, hold no basis. Let us remind the public, the gravity of the terrorists and their supporters' offences is immense and they must be held accountable for all of their actions."
Otto believes negotiations can help the Filipino army and government reach a temporary truce with the militants. However, in the long-term, a military strategy is also important to end the siege, which began on 23 May, in retaliation to the army's failed attempt to capture terrorist leader Isnilon Totoni Hapilon.
"Having the option of negotiation is always a good sign that someone on the other side is ready to talk when necessary, but the prospect of a lasting deal with ideologically driven Isis factions is very unlikely as they do not surrender easily. " Otto said.
"Militants might use any truce agreed with the government to plan and carry out further attacks. The military offensive put up by the Philippines security service is vital at this point and will discourage foreign fighters to reconsider the Phillipines as a new safe haven," he continued.
Referring to the recent prisoner swap occured in Nigeria, as part of a deal with Boko Haram terrorists to free dozens of schoolgirls kidnapped by the group in 2014, Otto said: "Exchange of prisoners is always a weak approach from the side of the government and should be considered carefully on its short and long term merits and demerits."
Following the release of the girls, Boko Haram has continued to carry out deadly attacks in northern Nigeria.
"The exchange of the girls with top commanders has demonstrated that certain prisoner swap deals strengthens insurgency groups," Otto concluded.
Fighting in Marawi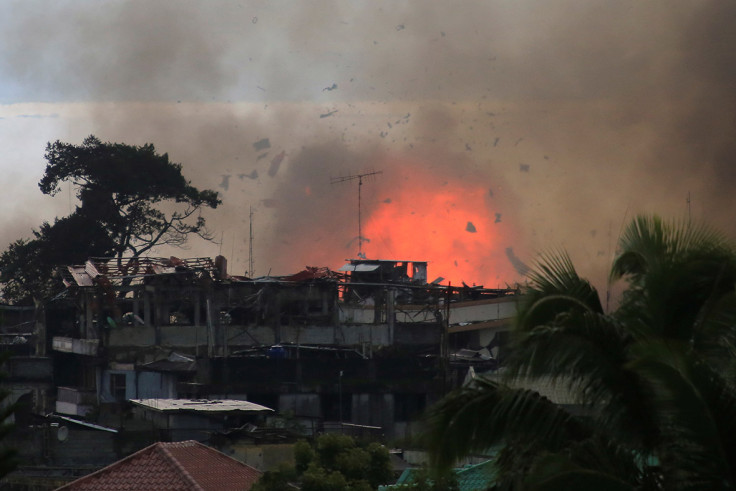 Fighting in Marawi has caused the death of nearly 300 militants, 67 troops and 26 civilians, prompting President Rodrigo Duterte to declare martial law in the island of Mindanao, where Marawi is located.
More than 200,000 people have also been displaced, with the army estimating at least 500 civilians remain trapped in areas where fighting is concentrated. Their lives are at risk due to bombings, starvation and militants' use of civilians as human shields.
The army said on Monday (26 June) militants are using around 100 civilians as human shields, ammunition carriers and stretcher-bearers.
As fighting continues in Marawi, a senior military commander claimed Hapilon may have fled the town. The army is investigating the claims.
There is a large population of Muslims in Mindanao, but the rest of the country is predominantly Roman Catholic.