Boko Haram: Why Switzerland helped Nigeria secure Chibok girls' release
Freed hostages were part of more than 200 schoolgirls Boko Haram kidnapped from Chibok village in April 2014.
Switzerland took part in negotiations that secured the release of 82 girls kidnapped by Nigerian terror group Boko Haram "at the request of Nigeria" and due to "humanitarian concerns", a spokesperson for Switzerland's foreign ministry has told IBTimes UK.
Earlier in May, a Boko Haram faction released the girls, who had been held captive for three years, in exchange for prisoners. Those freed were part of a group of more than 200 schoolgirls kidnapped from the Chibok village, in the restive Borno state, in April 2014.
Nigeria thanked Switzerland, the International Committee of the Red Cross as well as local and international NGOs for helping secure the release of the girls.
"Switzerland's commitment is motivated by humanitarian concerns," Noemie Charton, spokesperson for Switzerland's ministry of foreign affairs, said. "Switzerland's engagement in this operation was guided by the principles of strict neutrality and non-interference."
Charton added that Switzerland is calling on the release of the rest of the Chibok girls still held captive by the group.
At least 21 Chibok girls were released last October in another deal brokered by Switzerland and the Red Cross. It is believed 114 girls are still in Boko Haram custody.
"The process of negotiation with groups like Boko Haram is very complex and stressful and requires a varied number of actors working together and playing different, but key roles to realise the desired outcome," security analyst and counter-terrorism expert David Otto told IBTimes UK.
"The Switzerland representative played an active role in organising negotiations from within Nigeria and outside Nigeria along with local key actors like Barrister Zannah Mustapha and [human rights activist and lawyer] Asiha Wakil who wield trust due to their pre-existing relationships with one or more factions," he continued.
Details of the negotiations that resulted in the release of the girls have not been disclosed and little is known about the identity of the prisoners. However, Otto – who said his company TGS Consulting was involved in negotiations – said the the prisoners are "influential Boko Haram commanders".
"Their roles have never been officially established except that Boko Haram require[d] their release in exchange," he said.
Ryan Cummings, director of political and security risk management consultancy, Signal Risk, told IBTimes UK: "It is difficult to speculate the impact that the release of the detained commanders would have on the operational capacity of the sect, given that we do not know the identities of the operatives released as a result of the hostage exchange.
"However, given the decentralised nature of the Boko Haram – which operates more as an umbrella than a monolithic movement – any impact derived from the released commanders will likely be localised to the areas and operational cells to which they return, rather than having a wider- and/or trajectory-shifting impact on the insurgency," he said.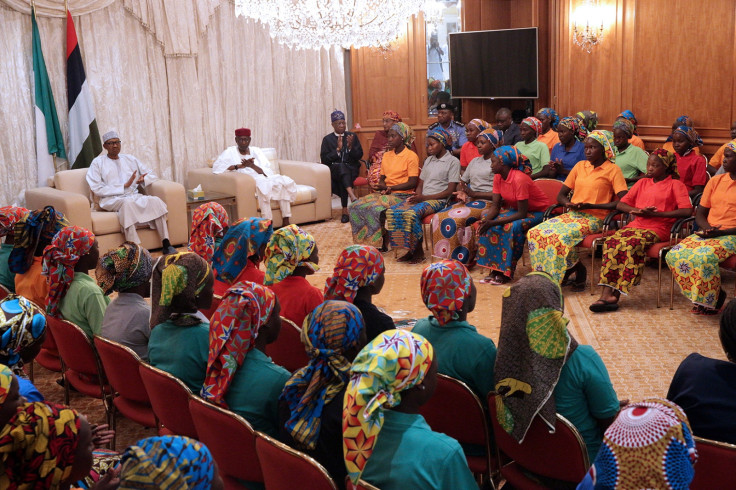 Nigeria's President Buhari welcomes a group of Chibok girls – held captive for three years by Boko Haram – on 7 May
Bayo Omoboriowo/Presidential Office/Handout via Reuters
Is fight against Boko Haram over?
Although the Chibok abduction was not the first mass-kidnapping carried out by Boko Haram, it was the only one that attracted international outrage. It led to the creation of the global movement Bring Back Our Girls, which shone a spotlight on the deadly insurgency of Boko Haram that had previously been under-reported.
The Islamist outfit fights against Western influence in Nigeria and aims to impose its version of Sharia law throughout occupied territories. In 2016, the group allied with Isis. However, when Isis replaced Abubakar Shekau as leader with Abu Musab al-Barnawi, a former Boko Haram spokesperson, the group split in to at least two factions.
The UN says at least 20,000 people have died in Nigeria and neighbouring states since the Boko Haram insurgency became violent in 2009. The conflict has also displaced at least 2.1 million people.
The group used to control territories the size of Belgium. However, Nigeria's ongoing military operation, Lafiya Dole, and a regional offensive – consisting of 8,700 troops from Nigeria, Niger, Chad, Cameroon and Benin – have scored some success, with soldiers recapturing key territories and releasing thousands of civilians held captive by the group.
Although the release of the girls has been widely welcomed, some analysts have pointed out it does not mean the fight against the insurgents is now over.
"The Chibok girls is a real distraction to the end game which is still ongoing," Otto said. "What we want to achieve is a surrender and an amnesty provided by a neutral country with the assistance of all regional states involved – Cameroon, Niger , Chad."
---
Nigeria up close: Check out our Flipboard magazine

---
© Copyright IBTimes 2023. All rights reserved.