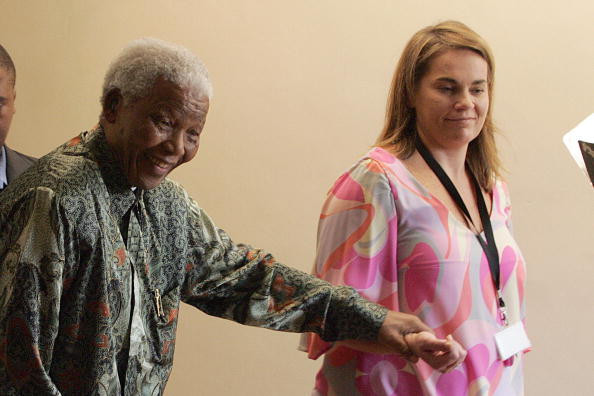 Shocking revelations about how Nelson Mandela spent his last days have emerged in a memoir written by his former personal assistant, Zelda La Grange.
In her memoir, Good Morning, Mr Mandela, La Grange tells of family dramas and power struggles which unfolded as the late leader's health condition worsened before he died on 5 December 2013.
In an interview with the Sunday Times, La Grange said: "I expect backlash from a lot of people. You can never write something or expose yourself like this and expect no one to be upset about it . . . there's not one line that can be contested in the book."
IBTImes UK has picked five of the most surprising and shocking revelations contained in La Grange's Good Morning, Mr Mandela, which will be released this week.
The Mandela Foundation, assisted by La Grange, had stopped scheduling visits by people unfamiliar to Mandela, after his conditions worsened in 2013.
However, some members of Mandela's family kept bringing strangers to the house to see him.
For his 85th birthday, in July 2003, Mandela hosted a party which La Grange had to organise. Some family members were angry at not being seated around the main table, and refused to invite La Grange to Mandela's following birthdays.
"I subsequently wasn't invited to his 90th birthday party at his farm in Qunu," La Grange wrote in her book.
"When Madiba's wife, Graça Machel, insisted I be there, I was invited, but deliberately seated at a children's table right at the back of the tent."
In another revelation, La Grange tells how Machel had to get accreditation for her own husband's funeral and was allocated only five seats at the service - including one for herself.
Celebrities Bono and Naomi Campbell were initially refused accreditation for Mandela's memorial service at Soweto's FNB Stadium. The two managed to get accreditation only after former president FW de Klerk intervened.
It also emerged there had been discussions within Mandela's family about his funeral, years before his death.
"Mrs Machel and some of the children had refused to be party to arrangements about Madiba's [Mandela's clan name] funeral," La Grange wrote.
"He was still in fairly good health and it was unthinkable to be planning someone's funeral while the person was still happily alive, still being cared for by his wife," she said.