Neo-nazi activists pose as much of a danger to community cohesion as Islamist extremists, as growing numbers of children are seduced by their messages of hate, a British government minister has warned.
In parts of Wales and Yorkshire, there are as many referrals to the Prevent counter-terrorism strategy linked to the far right as there are linked to Islamist groups — some of them involving children under 10 years old.
Leicestershire chief constable Simon Cole, who leads the National Police Chiefs' Council (NPCC) Prevent strategy, said earlier this year that in Yorkshire half of all referrals to the programme are related to the far right.
Thomas Mair, who is currently on trial accused of the murder of Yorkshire MP Jo Cox, had been a visitor to websites including the Ku Klux Klan (KKK). Mair has pleaded not guilty to murder.
According to a Sunday Times investigation, across England and Wales the proportion of Prevent referrals linked to fascism has risen sharply since the UK voted to leave the EU in June.
In 2015-16, 15% of referrals related to fascism whereas now the figure is around 25%. This rise has come at the same time as an increase in extremist rhetoric and a spike in reports of hate crime.
One group which has been causing concern is the neo-Nazi group National Action, which though consisting of only around 100 activists has a large presence on the internet.
On the weekend of Remembrance Sunday, the group stuck up posters in south Liverpool declaring the area a "Nazi-controlled zone".
The group has held marches in support of Adolf Hitler and hailed the election of Donald Trump – as did "alt-right" groups in the US and the KKK.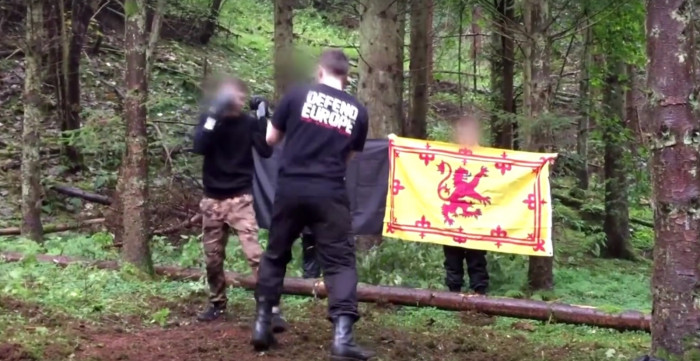 Across Europe, a rise in migration and disquiet about the future has been seized on by far-right groups.
There are growing fears National Front leader Marine le Pen could become the next French president, potentially signalling the end of the European Union altogether.
A new Ipsos poll puts Le Pen – who wants France to leave the EU – eight points ahead of her nearest rival, Nicolas Sarkozy.