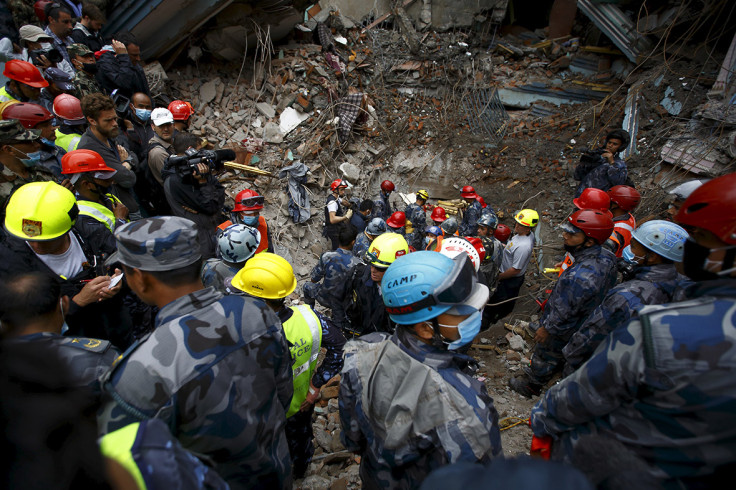 The United Nations has estimated a total of 4.2 million workers have been affected by the Nepal earthquake, according to an internal United Nations document exclusively shown to IBTimes UK.
This comes as officials and aid workers in Nepal are still without any news on up to 11,000 people living in the northernmost areas of Gorkha district, where the epicentre of the earthquake on 25 April was located.
In its preliminary assessment, the UN's International Labour Organization (ILO) found that approximately 1.15 million of affected workers were in the 11 worst-hit districts of Kathmandu, Dhading, Sindhupalchok, Nuwakot, Lalitpur, Bhaktapur, Rasuwa, Kavrepalanchok, Dolakha, Ramechhap and Gorkha.
Based on data published by the United Nations Office of the Resident Coordinator in Nepal, the ILO also found that, in affected areas, just under half of the total employed population had been severely impacted by the quake. This is based on the figure of 8.1 million people in total affected.
Vital economic lifeline in danger
In Nepal, one of the poorest countries in the world, agriculture accounts for about 40% of gross domestic product (GDP), services comprise 41% and industry 22%, according to UN figures.
While agriculture employs over three quarters of the workforce, services including the country's vital economic lifeline – tourism – account for a further 18%.
Pulling in around half a billion dollars annually through permit fees income, the mountain climbing tourism industry alone makes up about 4% of the country's GDP.
During the climbing season, which spans from March to May, the population of the Khumbu region at the base of Mount Everest soars from around 40,000 to 700,000, for instance.
Thousands of those seasonal residents are Nepalese workers from other areas who arrive for tourism-related employment.
'Huge impact on the livelihood of Nepalese people'
In 2014, the country faced a disruption in this income after an avalanche killed 16 sherpas. Mountain guides demanded insurance, better salaries and working conditions, and the season was called off.
"Now this happened. It will have a huge impact on the livelihood of the Nepalese people," Giulia Vallese, the representative of UNFPA, the United Nations Population Fund, told IBTimes UK from Kathmandu.
"I am sure many people will be scared to come to Nepal because they will think there will be another earthquake. Rumours are circulating that there will be another major earthquake, which will not help people come back to Nepal."
She added: "I am quite sure the nature lovers will continue coming, but these are not people who bring a lot of business in terms of income opportunities."
Police in Nepal say the death toll from Saturday's earthquake, which was centred in the Gorkha district just outside Kathmandu, has topped 5,500, while another 11,440 people have been injured.