Pregnant women have been systematically barred from entering relief helicopters airlifting injured patients out of Nepal in the wake of the devastating 7.8-magnitude earthquake, IBTimes UK can reveal.
Rescue helicopters have been airlifting the most severely injured since 26 April but pregnant women have not featured on the priority list, the United Nations Population Fund (UNFPA) claims.
"Right now the airlifting operations are focusing on assisting the injured. Some pregnant women who may need to be airlifted, because of complications or because they may not be able to deliver and might die as a result, are not given priority. We've seen that happen," Giulia Vallese, the UNFPA's Nepal Country Representative, told IBTimes UK from Kathmandu.
There are 55 rescue team missions in Kathmandu and the badly injured are been ferried by officials from the Nepalese and Indian army.
"Of course, there is a limited number of helicopters and this means a limited number of people or cargo they can carry," Vallese said.
"But we are advocating rescue teams include them in the lift of vulnerable people, because, while airlifting the injured is essential, pregnant women should also been given priority and be airlifted."
2,000 women at risk of deadly pregnancy complications
Based on preliminary research, the UKPA estimates at least 21,000 women will be in need of obstetric care in the coming month, of which more than 2,000 will likely develop complications.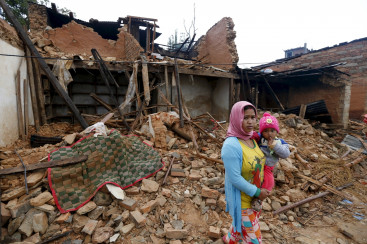 "Unfortunately, the women in Nepal carry unbelievably heavy weights, and have heavy-duty jobs that they shouldn't be doing, and in such a situation, that will get even worse," Vallese explained, pointing to the risk of a condition called uterine prolapse.
While this is a rare event in most Western countries, the condition is a "big problem" in Nepal.
There, women are at risk of cervical infection and spontaneous abortion, and complications include pre-term labour as well as maternal and foetal mortality.
Women delivering babies in camps
"I can only imagine that what is happening with the earthquake is going to make things worse for them," Vallese said. "What we have heard is that some women are delivering in the (makeshift) camps, which is really serious because some of these camps have been set up haphazardly.
"They are trying to provide some services but sanitation is a problem. So, of course, the vulnerability of these women is much higher."
For women who have just delivered babies, hygienic conditions for both mothers and children are very precarious. The UNFPA is also raising concerns about access to sanitation, adequate nutrition and shelter - it is cold and the monsoon rains are a month away.