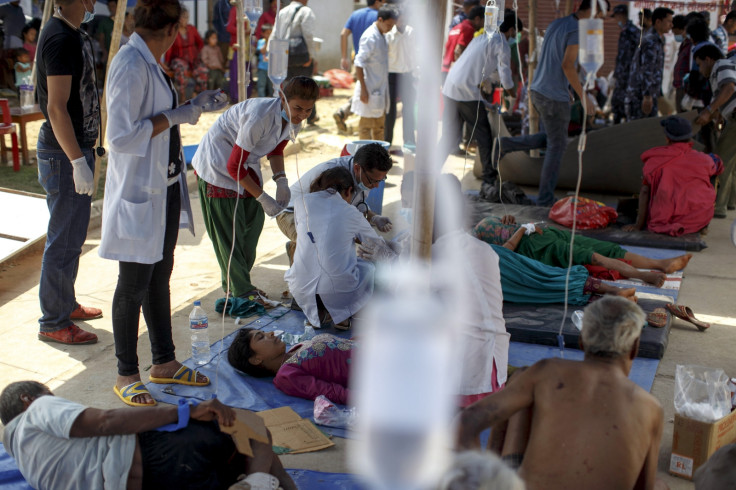 Doctors of the World teams have been witnessing "crush syndrome", a "pretty distressing" condition in which major shock and renal failure occur after arm and leg muscles are crushed by rubble in earthquakes and collapsed buildings.
"Our teams have started reporting crush syndrome conditions in survivors," Leigh Daynes, director of health charity Doctors of the World UK, part of the international Médecins du Monde network, told IBTimes UK.
"This life and limb-threatening condition happens when a limb has been compressed, and the pressure is released after being pulled from the rubble. The blood then floods the kidneys with toxins, and this is extremely dangerous because we know that if there is too much potassium in the blood, that can cause heart failure," he explained.
Myoglobin, a protein in muscle tissue, can also flood the kidneys, causing them to fail days after the person is rescued and wounds are sewn up.
He added: "A patient can be stitched up and sent home, and then experience kidney failure later."
Daynes is warning about the need for early diagnosis of the crush syndrome, as well as immediate treatment, which he says is "about having the right people with the right equipment on the ground quickly when we know hospitals are overwhelmed and can't cope".
He insisted there is a "real risk" that patients who experienced that will not get the treatment that they need unless medical staff can "quickly move".
With 80% of the population living in rural areas, Daynes warns "it will take time to reach some".
There are still enormous logistical difficulties in getting the medical care and skilled staff to people who need it the most outside of the capital Kathmandu, as Mercy Corps country director Sanjay Karki told IBTimes UK on 28 April.
Since the earthquake, there have been 60 aftershocks, rendering the terrain almost impracticable; and NGOs are facing considerable difficulties in landing humanitarian crew and cargo at Kathmandu airport.
Lessons from Haiti earthquake response
Doctors of the World, which Nepal staff has been redeployed and reinforced with international teams, faced similar issues in the aftermaths of the 2010 Haiti earthquake, which reportedly killed 316,000 people.
In Haiti, despite the high number of casualties – including 300,000 wounded – only 19 patients with crush syndrome were referred for treatment.
"The quality of this response is contingent on good coordination and that is a lesson from Haiti's chaotic response we must apply," Daynes explained.
The infrastructure inside Nepal is already very weak – as was the health system, which was incredibly fragile meaning infectious diseases were rampant – and malnutrition was rife. Before the disaster struck, there was only one doctor for every 5,000 people.
Going forward, the director also warned about continuity of care. He said: "There are considerable surgical needs, and there simply aren't enough surgeons on the ground to triage, to assess what procedures might be needed, let alone enough surgeons to perform those procedures. It really is a race against time.
"If there were any development gains in Nepal, those would have been wiped out by the quake, for sure," he added.