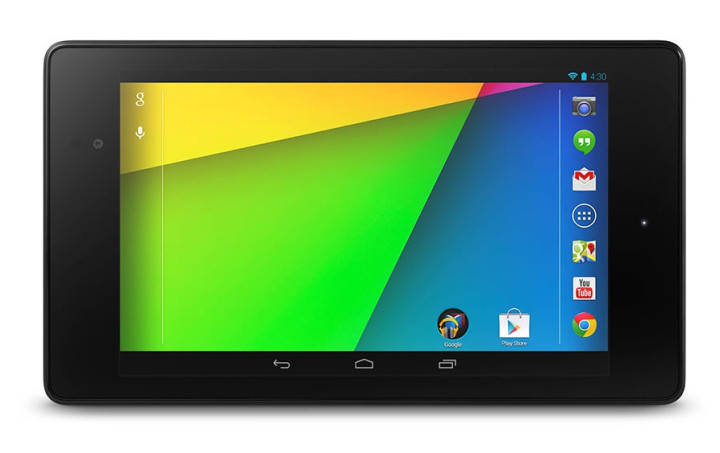 Google's next-gen smartphone, which is expected to be released as Nexus X during Halloween this year, has become the talk of the town even before its official announcement. Now, a new Nexus 7in tablet seems to join the Nexus X in terms of 'leaking out' even before its official release.
This new 7in tablet has reportedly been spotted, passing through the American Federal Communications Commission, by MyLGPhones, which states that the new device could be the Nexus 7 2014 tablet.
A MyLGPhones report also mentions the model number of the latest device as NX74751, which hints at a possible next-gen Nexus (as evident by the "NX" prefix in the model number of the new device).
The branding of the apparent next-gen Nexus 7 is credited to Google (by leaked FCC documents), which also adds meat to the fact that a third generation Nexus 7 could indeed be in the works by Google.
Hardware for current-gen Nexus 7 tablets has been supplied by Taiwan-based Asus due to which Google's Nexus 7 is also referred to as Asus Nexus 7 tablet.
However, going by the latest FCC reports that have surfaced (via MyLGPhones), it is not clear as to who the manufacturer of the next-gen Nexus 7 tablets will be. South-Korean electronics manufacturer LG is also rumoured to be in the race to supply hardware units to Google, and thereby develop the 3rd generation Nexus 7 tablets.
Also, the tech-specs of the reported next-gen Nexus 7 tablets have not surfaced in the latest FCC documents. But what is obvious at this juncture, is the fact that the latest 7in tablet will feature a 2480 mAh battery, and provide users 4G LTE connectivity, along with NFC, dual-band Wi-Fi and Bluetooth 6.5 connectivity options.
If the latest 7in device turns out to be a refreshed Google Nexus 7, then the tablet can be expected to run Google's yet-to-be-released Android 5.0 operating platform, which the internet giant officially showcased way back at its IO Developers Conference earlier this year.
Google's Android 5.0 (aka Android L) is also rumoured to start seeding, to popular Nexus devices such as Nexus 5, Nexus 4, Nexus 7 and Nexus 10, by late October.