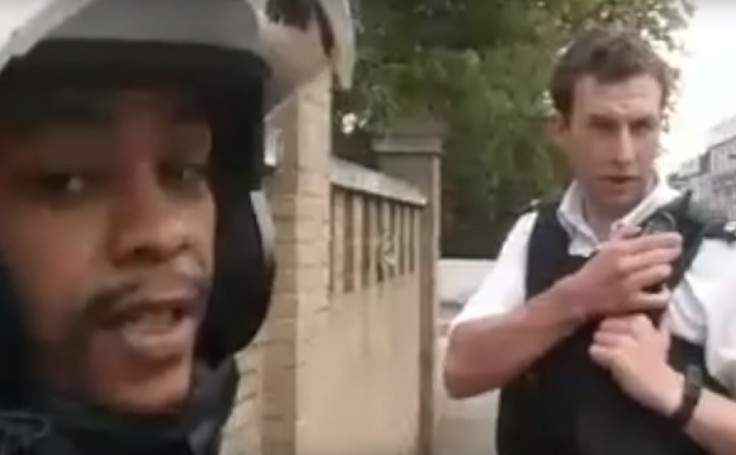 Police are investigating a video believed to feature a PC who was previously filmed smashing a car window in Camden "harassing" and "humiliating" a different man while pushing his scooter down the street.
Met Police has already launched an investigation into an incident in which an officer, known only as PC Savage, could be seen smashing the car windscreen of a passenger after he refused to get out of his vehicle.
Video footage has now emerged of what is believed to be PC Savage handcuffing another man after he saw him pushing his broken scooter down the street.
The new footage, filmed by Kyle Adair-Whyte, shows the officer explaining he stopped him as he had suspicion to believe he had stolen the moped before calling for back-up.
Adair-Whyte said he decided to upload the footage after seeing PC Savage on the news. He told 4Front Media: "When I saw the video of this PC Savage attacking the car it just confirmed my suspicions of what I was saying to him: 'You actually haven't got any grounds to search me and you haven't got any evidence to prove that I'm a criminal.'
"You've seen a black guy in a jacket pushing a bike that's slightly broken and you've immediately assumed that he's a criminal. He needs to learn how to interact with the public."
Discussing the officer in the video, Adair-Whyte added: "He thinks he has the right to assault me and accuse me of being a thief, which I thought: 'You've gathered all these suspicions from seeing a damaged bike', which is unfair."
"You think because you've got your uniform on, your little costume on, you can come and stop people and harass them and embarrass them on the high street."
A Met Police spokesperson said: "We are aware of a second video appearing on social media and its contents are being assessed."
After the first video went viral, Met Police confirmed a formal complaint has been made. A spokesperson added: "The footage continues to be subject to an investigation by officers from the Directorate of Professional Standards (DPS) and the driver of the car has been spoken to by these officers.
"The officers involved in the incident have been identified and have been placed on restricted duties.
"Although the investigation is in its early stages, it has been established that the officers stopped the vehicle based on information relating to a man who is of interest to police. On conclusion of the incident the officers identified that the driver was not the man in question and he was not arrested.
"The investigation will examine the officer's use of force during the incident."