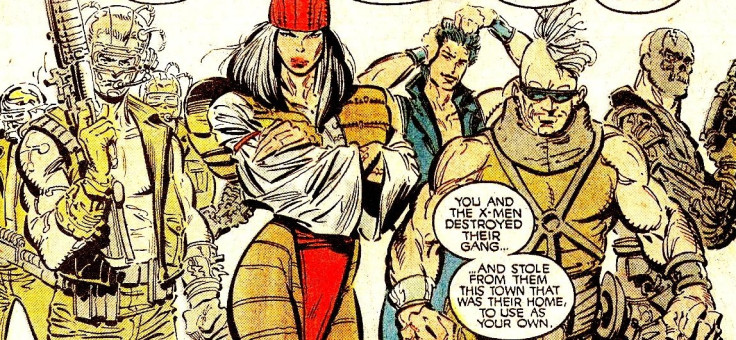 Thanks to the powers of social media, fans have been learning lots lately about what they can expect from 20th Century Fox's upcoming Wolverine movie, Logan.
Over the past few days, a verified account has appeared on Instagram and has been sharing some pretty telling, behind-the-scenes images from the third instalment in the franchise.
In keeping with the rest of the images monochrome look, the page recently posted a black-and-white photograph of an armoured man, holding a sniper gun whilst hiding out in what could either be long reeds or a corn field. Alongside the image, the account wrote a simple word as its caption; "Reaver," subsequently revealing that the Marvel Comics characters will go up against Hugh Jackman's titular hero in the movie.
In the comics, the Reavers are a team of criminal cyborgs who are highly-skilled when it comes to para-military style commando operations and are hellbent on destroying the X-Men specifially while also ridding the world of mutants altogether. Logan will likely see the second version of them lifted from the source material, given that Boyd Holbrook (Narcos) has been confirmed to be playing their leader, Pierce, in the film.
While the plot is still relatively vague (in typical superhero movie fashion), we're slowly discovering that Logan will be loosely based on comic-book series Old Man Logan, originally published in 2008. Across its eight-issue storyline, it tells the story of Wolverine as the last surviving X-Man in a dystopian world where he has vowed to never use his claws again.
Previously shared photos support the idea that Logan will take place in a Western-type wasteland which mirrors the desolate setting of the comic's storyline. In addition, more and more characters that were seen in those comics are starting to be confirmed for the movie too; such as the Reavers, female Wolverine clone Laura Kinney aka X-23 and Caliban (played by Stephen Merchant, below).
Also starring Orange Is The New Black's Elizabeth Rodriguez, Richard E Grant and Patrick Stewart, who will reprise his role as Professor Charles Xavier, Logan will be released in UK cinemas on 2 March 2017. It will come out in the US the following day.
For more entertainment news follow A-List on Twitter @Alistinsider