Mass Effect Andromeda gameplay trailer shows off combat, exploration and the fight for a new home
'It's your mission to find a new home for humanity,' BioWare said.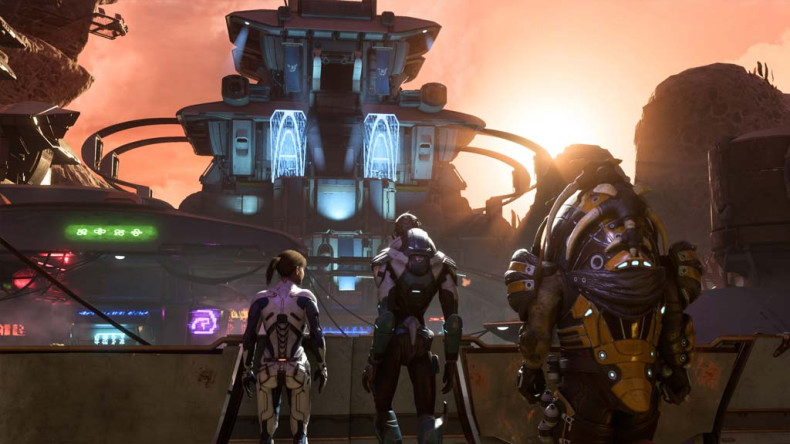 As promised, BioWare has revealed an action-packed gameplay trailer for Mass Effect: Andromeda at The Game Awards 2016, offering players a glimpse of combat, gear, player abilities and exploration in the anticipated sequel.
"You are the Pathfinder: part explorer, part soldier, part guide," the trailer's narrator says. "It's your mission to find a new home for humanity. But in Andromeda, resources are scarce, worlds are hazardous, or outright uninhabitable, and every planet has its own story. On this one, warring outlaw factions fight over every available scrap. You can make new allies or enemies — the choice is yours."
The nearly five-minute video (embedded below) shows off Andromeda's game's galactic map, which will allow players to "navigate from one system to another in the Tempest [their ship] and scan planets for resources."
"You'll encounter locations like the bustling outlaw home world of Kadara Port, a planet where battles between different factions are commonplace," BioWare said. "The video highlights one of these such confrontations, in which a group of outlaws are entrenched in battle and the Pathfinder is presented with an opportunity to engage or ignore the skirmish entirely."
The trailer shows protagonist Ryder battling fierce aliens, driving vehicles, scanning new objects and technology for clues and interacting with hostile alien species. Players also get a brief look at Andromeda's new Nomad vehicle which, as previously reported, seems to be more agile than the Mako in Mass Effect 1.
According to the developer, scavenging and crafting will be crucial in the new game.
"In a dangerous alien galaxy desperate for resources, conflict is inevitable," the narrator continues. "But you will have access to futuristic weapons, gear and powers to help you in your fight for a new home."
Mass Effect Andromeda producer Michael Gamble took to Twitter after the gameplay reveal, telling fans to dissect the new trailer for details about the game's weapons, powers, locations, new friends and enemies.
As a Pathfinder, BioWare says players will be able to call down Forward Stations to switch up weapon loadouts, tweak the squad's composition and fast-travel to various other locations to explore and search for resources and information about different new planets.
The trailer also adds that you will rely on companion characters such as Drack and Vetra and also encounter some new alien species including the Kett.
On 7 November, known as N7 Day among Mass Effect fans, BioWare released a cinematic trailer for the game featuring combat, various gigantic alien creatures and a glimpse of Andromeda's main antagonist.
Since then, the developer has continued to tease nuggets of information about the upcoming game, dubbed as one of its biggest games in terms of content, including details about its side missions, antagonistic alien species, the Tempest and more.
Mass Effect: Andromeda is set to release in Spring 2017 for PS4, Xbox One and PC.