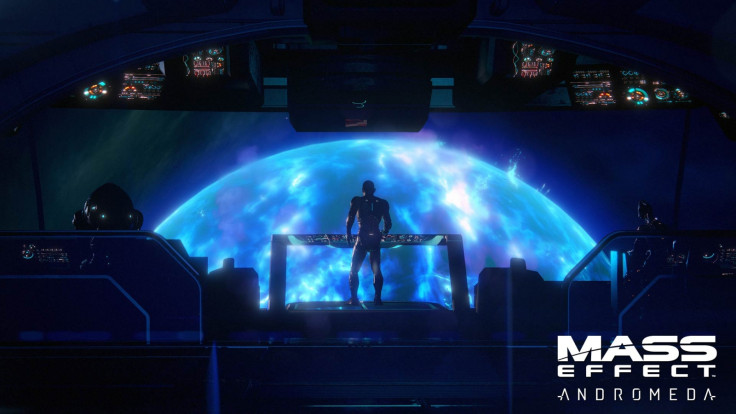 BioWare's highly-anticipated sci-fi RPG Mass Effect: Andromeda is the biggest game the company has ever created, the developer has revealed. In an interview with Game Informer, the upcoming game's producer Mike Gamble said Andromeda is the "biggest we've ever gone, in terms of the number of pieces of content."
"Although we have a lot of different areas to go, we want to make it so whenever you go to those areas, you remember them," Gamble told Game Informer. "There are combat-related encounters, puzzle-related encounters, narrative-related encounters, and a lot of things will happen that add more depth to the critical path."
The developer also revealed that Andromeda's brand new, massive universe will include more options for side missions outside of the main storyline than any previous Mass Effect game, featuring "less linear planets and hub cities."
"If you look at the trilogy, you see all the hubs we created and the side content that came off the hubs," Gamble said. "That's one place to put it, but imagine that side content in a place where you're not limited to keeping your weapon holstered. There are so many different elements we can bring in by putting it on those planets with exploration areas. It makes the number and the type of side quests that we can do that much more interesting, whereas before if you're on the hub, you're kind of limited to a fetch quest type of thing."
One of the highlights of Mass Effect 2 - loyalty missions - will make a comeback in Andromeda, but will be optional and less connected to the game's main story. However, they will offer fans the opportunity to delve into the history of individual supporting characters.
"Because they veer off of the critical path, it just allows you to tell very different stories," creative director Mac Walters said.
Fans will be able to make their way across different planets using Andromeda's new Nomad vehicle that Gamble says "handles better, drivers better, cascades better" and "has all the nimbleness that the original Mako did without any of the frustrations.
Players will also discover drop zones for forward stations to reveal various points of interest on the map, establish a fast-travel point and change their loadout.
As players explore the numerous planets within the new galaxy, the developer teases that they can expect "some level of hostile force" lurking on each one such as enemy bases or hideouts.
"These bases are pretty lengthy to take out, so if you approach one, you want to be prepared before you into it," Walters said. "It's fun, because there's a combination of systemic and scripted stuff in there. If you tip off too many enemies, the alarms start going off and you have to shut them off. And there's usually narrative tied around it."
As you travel across and explore the new Andromeda galaxy, scanning new objects, technology or rocks to send data back to the Tempest will be essential, the developer said, allowing you to find clues and craft weapons and armor.
You can also expect to face off against some massive bosses as well, the developer added.
"You'll find creatures and encounters that are so far over-leveled to where you're at naturally on these areas and you can tell right away," Gamble said. "We have a lot of other things like that, where you'll know that you're not ready for this, but you'll know you want to come back."
Following the release of an action-packed cinematic trailer on N7 Day (7 November), BioWare has continued to reveal interesting teasers and details about the game ahead of its launch next year. The developer said more information about the game including a gameplay reveal will be released at The Game Awards 2016 on 1 December.
Mass Effect Andromeda is set to release in spring 2017 for PS4, Xbox One and PC.