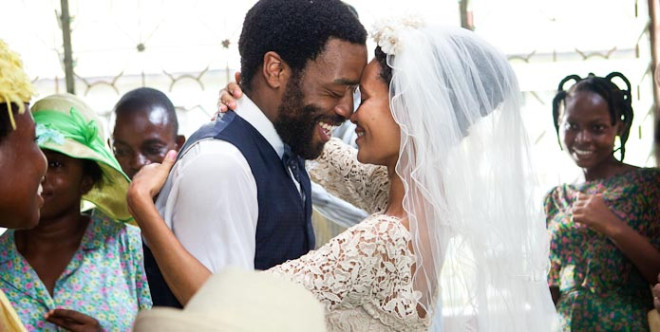 Chiwetel Ejiofer may have been showered with award nominations for his stunning lead performance in Oscar-winning 12 Years a Slave but his new film could end up being even more groundbreaking. Half of a Yellow Sun, based on the novel of the same name by Chimamanda Ngozi Adichie, is an epic love story about two sisters caught up in the outbreak of the Biafran war. At a budget of N1.27bn (£4.6m), it is the most expensive Nigerian film ever made.
A New Nollywood
The Nigerian movie industry, widely referred to as Nollywood, is second only to India in the world in terms of output. Producing 1,000 films annually, its estimated worth is N522bn.
Almost all of that comes from the African home video market, but Nadia Denton, a film industry veteran and author of The Nigerian Filmmaker's Guide to Success, says that Half of a Yellow Sun is an example of more ambitious films being made in the country.
"There's an emerging class of Nigerian filmmaker," she says.
"They don't want their films to just go out on DVD into the market, like they traditionally have, but they want to do the festival circuit, internationally. They want to get academy award nominations. They want the world's vision of Africa to be quite different. And they're working tirelessly, in terms of the aesthetic and the quality of their films, to try to raise the bar," says Denton.
Straight-to-Video Sales Boom
The 18-year-old industry has humble origins. Back in 1992, trader Kenneth Nnebue made a cheap film out of the large stock of blank videotapes he had acquired, hoping that this would make them sell faster. The film was Living in Bondage, and the stratospheric success of the straight-to-video movie, selling half a million copies, proved to be the catalyst for a home video market that would come to dominate African film viewing.
It was a guerrilla film industry from the ground up: there are no studios, no sets, no structure at all in place. Financed by groups of individuals, movies are made as quickly and cheaply as possible, shooting on location on a shoestring budget.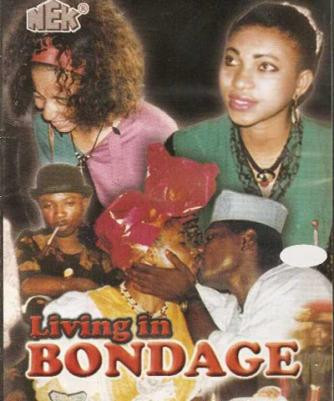 They are then released straight to DVD, where merchants hope to make as much money as possible before they are ripped and sold abroad. Video piracy isn't a nuisance but an inevitability. Jessica Hope, head of communications at iRoko TV, a web platform that provides Nigerian films on-demand, says: "It's an interesting movie industry, but it is brutal, it is very tough.
"A lot of people will be quite rude about Nollywood films, but if you gave a Western director $30,000 to make a film, they just couldn't cope. That's probably how much a runner earns on a Hollywood film.
"But [for that amount] you've got to make a whole film, and you've got to pay your stars. The person who's producing it might be directing it, make-up, act in it themselves. So actually you have to be extraordinarily creative to make something powerful and interesting for an audience.
"It's such a tiny budget and you don't have the safety net of government funding. You have to beg, borrow and save from your family, from your church, maybe from some wealthy individuals. It's almost an economic miracle that Nollywood actually exists and the films continue to be made," says Hope.
Reaching Out to the Diaspora
iRokotv was launched in December 2011, and has enjoyed phenomenal growth. Labelled "the Netflix of Africa", the site is home to over 5,000 Nigerian film titles on-demand. Whereas before Nollywood movies were limited to physical distribution via DVD sales, now they can be accessed anywhere with an internet connection, an important way of tapping into the global Nigerian diaspora.
"Say for example you lived in Hungary of Thailand or wherever in the world, and you want to connect with some part of home? There's no way you could access Nigerian DVDs, because the distribution, even within Nigeria, is not that great. When you're talking physical distribution it's tough. But as long as you have an internet connection you'd be able to watch our website," says Hope.
This globalisation of Nollywood means that more and more Nigerian films are being viewed outside the continent, a fact that producers around the world have noticed. Half of a Yellow Sun is a British/Nigerian collaboration, and Denton believes that international collaborations could help take Nollywood to the next level.
"As it stands there's not enough structure in Nigeria between co-productions along Western lines to work, particularly because a lot of co-productions are government-orientated and bureaucratic, quite specific structures that need to be in place which at the moment Nigeria doesn't have.
"But already you're seeing more informal arrangements where Nigeria-based filmmakers are making connections with their colleagues in the diaspora, and they're able to tap in to not just their resources but also audiences. That's what I imagine is going to be happening to an increasing degree in the next five to 10 years," she says.
It's taken nearly 20 years, but with ambitious filmmakers inside Nigeria, and producers willing to invest outside it, high-quality Nigerian films could soon become a mainstay in cinemas as well as on DVD.
Half of a Yellow Sun will be released in cinemas nationwide from 8 April