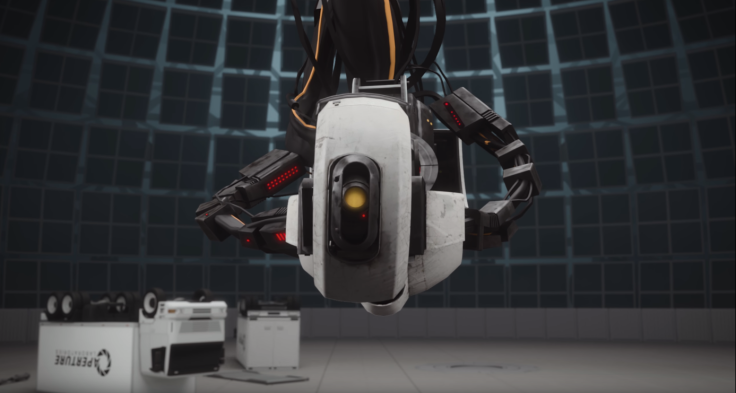 There's a new Portal game on the way, but it's not what anyone would have expected. Bridge Constructor Portal is exactly what it sounds like - a bridge construction game... with portals - and it's heading to PS4, Xbox One, PC, Nintendo Switch and mobile devices "soon".
Bridge Constructor Portal's announcement was believed to be planned for The Game Awards on Thursday evening (7 December) but the game leaked when its announcement trailer appeared early on developer Headup Games' YouTube channel.
Headup Games is a German studio known for Runbow, Pixel Heroes: Byte & Magic, and 2013's Bridge Constructor, which this new game is a spin-off of.
In the game, players build bridges to grant safe passage to various vehicles while contending with a complicated physics system, gravity and the instability of their own creations.
The new Portal version throws in portals too.
In the announcement trailer we see a truck bearing the logo of scientific research facility Aperture Science crossing a bridge by driving off it into a portal that thing flings it over the perilous gap.
No gameplay was seen, but presumably players will be able to place portals where they wish in the same way they're able to build bridges.
The trailer concludes with a bridge collapsing, sending a truck plummeting into the void below. It crashes beside GLaDOS - voiced by Ellen McLain, who says: "Ah yes, we are going to have a lot of fun together."
Rumours circulated overnight that a new Portal title being revealed at The Game Awards. Naturally speculation turned to a possible third instalment and remasters of the first two games, released in 2007 and 2011.
The series is a spin-off of Valve's Half-Life series, with the original game forming part of compilation The Orange Box alongside Half-Life 2: Episode 2, which revealed the narrative ties between the two series.
Portal and Portal 2 are celebrated classics, but after the release of the latter developer Valve steered away from game development, instead focusing on hardware like the HTC Vive virtual reality headset and its digital platform Steam.
Recognisable elements of the series have appeared in some VR projects, and Portal characters also featured in their own dedicated part of toys-to-life game Lego Dimensions in 2015.
No firm release date has been announced. A single screenshot has appeared online, courtesy of Eurogamer.