New Rogue One international trailer teases more Jyn Erso backstory and her connection to the Force
Fans are speculating that young Jyn became the owner of a Kyber crystal; a material used to make lightsabers.
With just over a month to go until fans can finally see Rogue One: A Star Wars Story in cinemas, Disney and Lucasfilm have unveiled a new international trailer that features some exciting – and surprising – nods to the already-existing well-loved instalments... And if that's not enough to get lovers of the franchise excited, it also showcases more Darth Vader than other sneak peeks that have come before it!
At the beginning of the clip, viewers can glimpse Lyra, mother of protagonist Jyn Erso (Felicity Jones) played by The Fall actor Valene Kane, for the first time.
It depicts Lyra giving young Jyn a crystal necklace urging her to "trust the Force," just as her parents come under attack from Ben Mendelsohn's villain Director Orson Krennic and his army of Death Troopers.
Many fans online have deduced that the large gem seen is actually a Kyber crystal, a material used to make lightsabers as well as being the thing that makes the Death Star operational (in much quantities though, of course).
Older Jyn has been seen wearing the crystal necklace in previous trailers, so it seems pretty safe to say that the item will probably have much more of an impactful role in the film that was initially expected.
Another interesting tidbit that can be taken from the trailer is that just before the crystal scene, Jyn's father Galen (Mads Mikkelsen) can be heard explaining to her that whatever he does, he does it to protect her.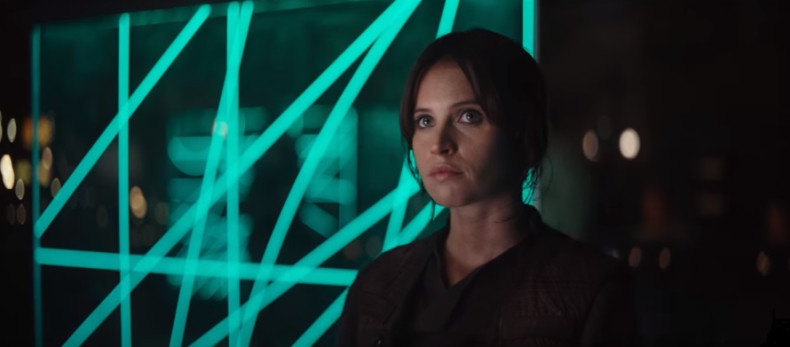 Now, those who have been keeping a close eye on all things Rogue One over the past year will know that the identity of Jyn's father isn't necessarily a secret – unlike many character's in the Star Wars universe (here's looking at you, Rey, Finn and to some extent Luke). In August however, it emerged that Galen is a scientist, whose knowledge of the universe causes both the Galactic Empire and the Rebel Alliance to take an interest in him.
In July, Mikkelsen teased at the Star Wars Celebration in London that his character "once built something 'so beautiful' for the universe" which led many fans to speculate that he was involved in the creation of the Imperial Army's Death Star; a giant military space station, best known for its superweapon that can destroy entire planets. But with Jyn's best interests in mind always, did Galen really create such a devastating evil device with the intention of harming people? Fans will have to wait to discover the answer to that.
Directed by Gareth Edwards (Godzilla) and also Diego Luna, Riz Ahmed, Genevieve O'Reilly and Forest Whitaker, Rogue One: A Star Wars Story revolves around a group of rebels who plan to infiltrate the imperial army base to steal plans for the first Death Star.
While there have already been prequels to the Star Wars originals, Rogue One's story will bring audiences right up to the beginning of A New Hope. It is scheduled to open in UK and US cinemas on 15 December 2016.
For more entertainment news follow A-List on Twitter @Alistinsider