Twitter has launched an entirely new update to its website, as well as the iPhone, Android and TweetDeck applications. We've had a play with the new TweetDeck for Mac, and here's what we think.
TweetDeck has always been the most comprehensive Twitter application, with customisable columns it's aimed at the casual and power-users alike, but now Twitter has simplified it and removed some key features.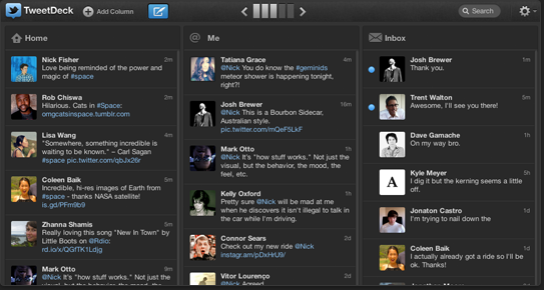 The update - which was rolled out on Thursday along with updates to the mobile apps and Twitter.com - takes advantage of Mac OS X Lion by offering a full-screen mode, and the interface as a whole has been simplified.
It's been less than 24 hours since the update, but we're disappointed with the number of bugs in the new TweetDeck for Mac. Firstly, clicking on a link in a tweet opens a new browser window; this is fine for links to websites, but even Twitpic links - which previously opened within TweetDeck - now force open a browser.
Annoyingly, when opening a browser, TweetDeck also forces the Mac App Store to open, too. Stranger still, the AppStore always opens at TweetDeck's download page, which of course tells you that you already have the app installed.
Another hugely annoying bug - at least we hope it's a bug - is that the 140 character countdown is missing, so when you're writing a new tweet you've no idea how much space you've got left. Maybe this would be ok if combined with TwitLong, a website that displays tweets of unlimited length, but this isn't the case. Instead, your tweets are cut off at 140 characters
Your direct message inbox can be shown in a column as before, but the height of each message box is uniform - unlike the tweets in your timeline - so most direct messages don't fit in the box. Also, there's no way to have a column that displays a list of current trending topics - a major omission for those who use TweetDeck as a new source.
All in all, Twitter has made a bit of a hash of this update to TweetDeck and we only hope that a fix is released very soon. Not being able to open pictures within the app is awful and the bug which forces the AppStore open is a pain. Hopefully Twitter releases an update to fix these problems very soon.