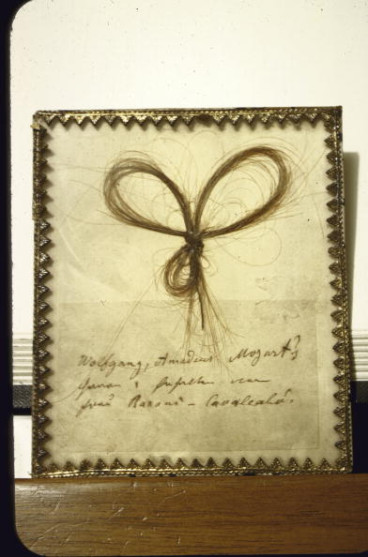 A lock of Wolfgang Amadeus Mozart's hair in a gold locket dating back to 1791 is set to go on auction at Sotheby's in London for an estimated £10,000.
In 2002, a lock of the Austrian music composer's hair fetched an estimated £38,240 at a Sotheby's auction. The final price was reportedly double the pre-sale valuation.
Other items to go on sale on Thursday's (28 May) auction include a lock of Ludwig van Beethoven's hair, as well as an invitation note to his 1827 funeral, reported BBC News.
Both items together are estimated to sell for £2,000.
According to a friend of Beethoven's, Gerhard von Breuning, visitors who had come to pay their last respects to the composer in 1827 had clipped off nearly all of his white hair before he could get there, reported The Guardian.
All of Mozart and Beethoven's memorabilia set to go on auction at Sotheby's will be available for public display in central London till Wednesday (27 May).
Mozart's locks were reportedly preserved in a gilt locket and passed onto English composer Arthur Sommervell after first being given to German conductor Karl Anschutz from Mozart's widow Contanze.
The Mozart's lock of hair reportedly comes in a gold locket with a note saying it is from the composer.
Social media users expressed their shock at the hype over a lock of hair.