The walls of New York City subway stations have been filled with colourful notes bearing messages of hope in response to Republican candidate Donald Trump's victory against Democrat Hillary Clinton in the US presidential election.
The messages were first spotted on 9 November. In the past 48 hours, subway tunnels across the city, including Times Square station, have become "walls of hope," where people have been leaving messages of support for each other in what has been branded "subway therapy".
Some of the messages expressed the grief, disbelief and fear that people felt in the aftermath of the election, particularly following several reports of racist abuse and attacks at the hands of self-proclaimed Trump supporters.
One of the messages read: "My sister called in the morning. She is terrified and despondent. We are Muslim. Please don't fail us America."
Another note said: "I woke up this morning and cried. Cried to the news of Trump being the president. As a Muslim, I've never been more scared for my life, But then I saw this wall and my faith in humanity has been restored, For the first time today I feel okay."
Most messages bore references to Clinton's campaign slogans, from "Stronger Together" to "Love Trumps Hate", others expressed support for Clinton. "HRC, you're an amazing woman + role model. Thanks for fighting". One message paraphrased Barack Obama's response to booing from the crowd against Trump, which invited people to vote: "Don't boo, love".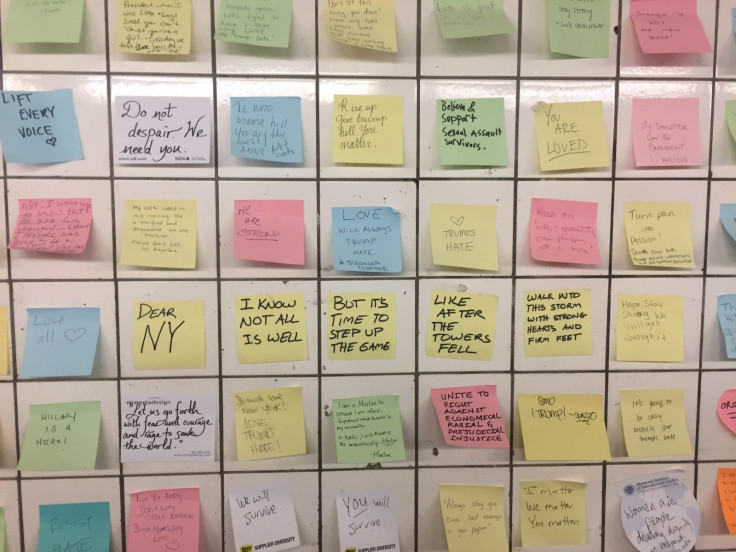 The heartfelt display of solidarity comes as thousands of demonstrators in major American cities protested against President-elect Trump for two nights in a row. While these were largely peaceful, there were also some reports of violence.
In Portland, Oregon, police said the protests turned into a riot, writing on their Twitter account: "Due to extensive criminal and dangerous behavior, protest is now considered a riot. Crowd has been advised."
Responding to the protests, Trump first said on Twitter: "Just had a very open and successful presidential election. Now professional protesters, incited by the media, are protesting. Very unfair!" Then, nine hours later, he tweeted again. This time, he commended the protesters' passion: "Love the fact that the small groups of protesters last night have passion for our great country. We will all come together and be proud!"