For Manchesters City and United, the next 48 hours could prove crucial in determining the destination of this season's Premier League crown.
Roberto Mancini's side have the chance to cut the gap with their Manchester rivals back to one point should they beat Chelsea at the Etihad Stadium on Wednesday night.
The Manchester City boss remained bullish in his pre-match press conference and insists his side are still favourites to claim the title in May, despite trailing Manchester United by four points.
"We will win the title, we will win. We will do everything to win the title. We need to think positive always," Mancini is quoted in the Telegraph.
At one point City led Manchester United by seven points but an impressive run of form by Sir Alex Ferguson's side - they have dropped just two points since January's 3-3 draw at Chelsea - has tipped the balance of the title race back towards the red half of the city.
United's resurgence has coincided with a downturn in City's fortunes. Since a 0-0 boxing day draw at West Bromwich Albion, City have lost to Sunderland, Manchester United, Everton and Swansea and crashed out of the Europa League against Sporting Lisbon.
All of which means City's clash with Chelsea is a must-win game for the side, particularly with United's title run-in looking, at least on paper, like the easier of the two. With the exception of their trip to the Etihad on 30 April, Ferguson's side do not have to play another team in the top seven. In contrast, City face tough trips to Arsenal, Stoke and Newcastle before their final game at home to Queens Park Rangers.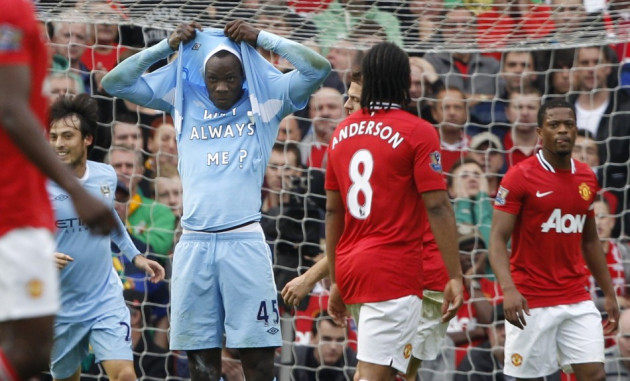 Nevertheless, given the psychology of the title race the Manchester derby represents a pivotal demarcation for both sides' prospects. City have won every league game at the Etihad this season and, should they prevail in crucial upcoming league fixtures against Sunderland, West Brom and Wolves, they will be confident going into the derby clash.
And Mancini has backed his side to win against Chelsea on Wednesday night and put the pressure back on United. "Until now we have had a fantastic Premier League, we need to continue like this," Mancini said. "We play one game a week; we can have more concentration about this."
Carlos Tevez is in line to make his first start for City since last September, after Mancini confirmed the striker had regained his match sharpness following a series of low-key reserve matches.
"He is getting better but I don't think Carlo can have more than 25-30 minutes," Mancini said.
"A player like Carlo needs to play, but for 90 minutes it is impossible. But if he can play 30 minutes, after 45, then in three or four games he could have 90 minutes, easily."
TITLE RUN-IN, 2011-12
<colgroup><th>Man Utd<th><th>Man City
Wolves (a), won 5-0
18/21 Mar
Chelsea (h)
Fulham (h)
26/24 Mar
Stoke (a)
Blackburn (a)
2 Apr/31 Mar
Sunderland (h)
QPR (h)
8 Apr
Arsenal (a)
Wigan (a)
11 Apr
West Brom (h)
Aston Villa (h)
15/14 Apr
Norwich (a)
Everton (h)
22 Apr
Wolves (a)
Man City (a)
30 Apr
Man Utd (h)
Swansea (h)
6 May
Newcastle (a)
Sun'land (a)
13 May
QPR (h)
Source: BBC Sport