The LG Nexus 5 has been spotted running Android 5.1 (Lollipop) in recent Geekbench tests conducted by the folks at primatelabs, while Google recently showcased Android 5.1 running on its budget oriented Android One devices in Indonesia and the Philippines.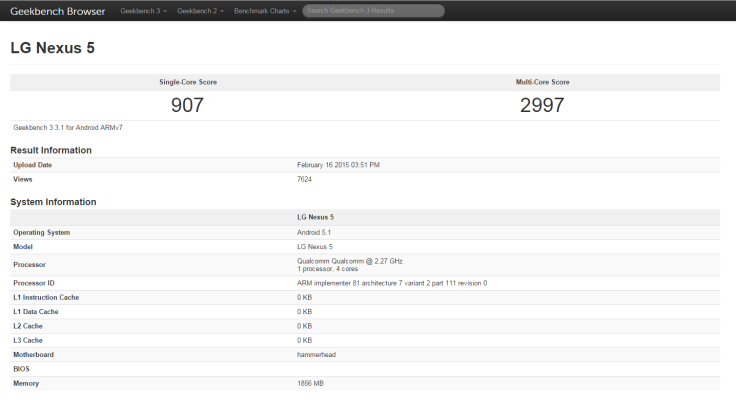 As Techtastic (Google translated) reports, the new Android 5.1 update brings a bunch of minor tweaks and feature enhancements over its previous release (Android 5.0) including improved Quick Settings menu with quick switch options for Bluetooth and Wi-Fi toggles.
The update also reintroduces silent mode that was dropped in Android 5.0 in exchange for priority mode, wherein the latter allowed users to select which alerts they wanted to receive.
Since the silent mode option was disabled in Android 5.0, it resulted in the muting of all alarms and the issue seems to be fixed with the Android 5.1 release.
Among other noteworthy features, Android 5.1 reportedly offers improved battery life, better Random Access Memory (RAM) management, and loads of bug-fixes as well as performance optimisations over the previous iteration.
Consequently, the Android 5.1 update is expected to deliver enhanced system stability, besides fixing a couple of known issues with "Okay Google" voice search, as well as notification problems.
Though there is no word on the exact release date for Android 5.1, Google is expected to make a wider release for the new update, which could debut on the Nexus smartphones and tablets in a matter of a few weeks, as Android 5.1 is already spotted running on the Android One platform.
As Android 5.1 is ascertained to be a minor update focused at bug-fixes, no change is expected in the name of this build.
Consequently, Android 5.1 could still retain the Lollipop moniker unlike the transition from Android 4.0 (aka Ice Cream Sandwich) to Android 4.1 (aka Jelly Bean).