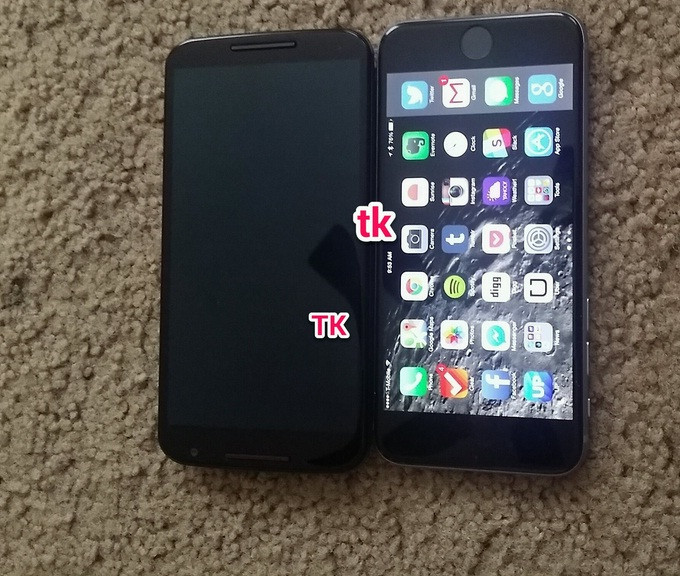 In a new photo leak, Google's new Nexus smartphone has been spotted next to Apple's large-screen flagship.
What seems to be confirmed so far about the Nexus 6 is that it will be Google's large-screen offering for Android fans. Several rumours have already hinted that the handset sports a 5.9in Quad HD screen with pixel density at 496 pixels per inch. There are no details available currently on whether or not Google has plans for a regular Nexus model with a smaller screen.
The latest photo leak (check the above photo) shared by TKtechnews shows the Nexus 6 aka Nexus X and the iPhone 6 Plus placed shoulder-to-shoulder. The Nexus smartphone, in the photo, looks wider and slightly bigger than the iPhone 6 Plus, which features a 5.5in screen with resolution of 1080 x 1920 pixels giving it a pixel density of 401 ppi. This again corroborates previous reports of a large-screen Nexus variant.
Meanwhile, a disclosure by Wall Street Journal asserts that Nexus 6, currently manufactured by Motorola (which Google is selling to the Lenovo Group) will be larger than the rival high-end phablet models in the market such as iPhone 6 Plus and Galaxy Note 4.
Besides, Nexus 6 which will directly compete with iPhone 6 Plus in terms of display quality will cost lower than the iPhone.
Google will hopefully, like the previous Nexus offering, launch the Nexus 6 with unrivalled hardware features and an equally reasonable price.