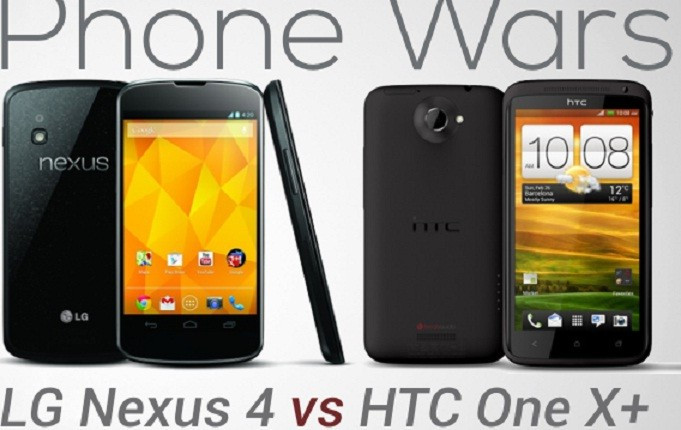 The wait for Google's fourth generation Nexus-branded smartphone manufactured by LG is over. The Nexus 4 is scheduled to go on sale alongside the Nexus 10 from tomorrow, 13 November.
The web search giant has confirmed that there will be no pre-order for the devices, instead the orders will be taken for both Nexus 4 and Nexus 10 on 13 November and those orders will start shipping the same day.
Before buying take a look how the Nexus 4 stacks up against HTC's One X+ which is a refreshed version of the original One X featuring the latest version of the Android operating system and HTC Sense user interface v4+.
Nexus 4 vs One X+: Display
The display and associated features of the One X+ match the company's flagship smartphone, One X. Both have a 4.7in Super LCD2 display with a resolution of 720 x 1280 pixels giving it a pixel density of 312 pixels per inch (ppi).
The Nexus 4 also has a 4.7in Wide Extended Graphic Array (Wide XGA or WXGA) True HD IPS Plus display. The screen resolution and the pixel density of Nexus 4 are slightly higher than the One X+ at 768 x 1280pixels and 320ppi respectively.
The True HD IPS display of Nexus 4 is supported by 'Zerogap Touch technology' for clear viewing. This screen technology was first introduced in the LG Optimus G. What makes this technology unique compared to regular touchscreens is the Zerogap Touch has an ITO sensor film which is printed on the glass, removing the air gap trapped between two elements.
This results in delivering better touch sensitivity while offering users "an immersive and rear-touch sensing experience." The Zerogap Touch technology also reduces the thickness of the display offering slim design with sharpest viewing experience.
Both Nexus 4 and the One X+'s displays are protected by Corning Gorilla Glass 2.
Nexus 4 vs One X+: Dimensions
The Nexus 4 measures 134 x 69mm and is pretty slim at just 9.1mm, whereas the One X+ measures 134 x 70mm and is 8.9mm thick The Nexus 4 is just four grams heavier than the One X+ at 139g.
Considering these physical dimensions, the footprints and the thickness of both Google and HTC's handsets are virtually identical.
Nexus 4 vs One X+: Operating System
The One X+ was launched with Android 4.1 (Jelly Bean) software whereas the Nexus 4 will run on the latest version of Jelly Bean, Android 4.2. There is no official word on when or if the One X+ will receive the Android 4.2 upgrade which brings an array of new features including Daydream, enhanced Google Now, Google Search and Android Beam.
Another interesting feature of Android 4.2 is Gesture Typing, which enables users to glide fingers over the letters they want to type. It also adds support for wireless display which will allow users to share movies, You Tube videos and other things on TV.
Google is expected to release the Android 4.2 update to its older devices on 13 November, the same day when the Nexus 4 and Nexus 10 have been scheduled to go on sale.
However, ahead of its official release the features of the latest version of Android have been leaked to the Android devices on several occasions.
Nexus 4 vs One X+: Processor
HTC is using Nvidia's Tegra 3 (AP37) chip featuring a quad-core processor, paired with ULP GeForce graphics unit for the One X+. Interestingly this is the similar quad-core processor being used in the One X but the key difference is the quad-core processor in the One X is clocked at 1.5GHz whereas the One X+'s at 1.7GHz.
Furthermore HTC claims the 1.7GHz quad-core processor makes the LTE version of the One X+ up to 67 percent faster than the LTE variant of One X. The processor is being designed to deliver quicker web browsing, fluid gaming and graphics rendering and longer browsing life.
Qualcomm's Snapdragon S4 Pro chip featuring a quad-core Krait processing unit paired with Adreno 320 graphics unit powers the Nexus 4. The quad-core processor runs with a clock speed of 1.5GHz.
First adopted into the Mobile Development Platform (MDP/T) for Android tablets, the Snapdragon S4 Pro quad-core has been benchmarked to be a powerful processor.
The Nexus 4 has double the amount of RAM compared to the One X+, at 2GB.
Nexus 4 vs One X+: Cameras
The One X+ has an eight megapixel primary camera with camera technologies such as auto-focus, LED flash, simultaneous HD video/image recording, touch focus, geo-tagging, face detection.
The handset has a 1.6 megapixel front-camera, with the One X+ featuring a self-portrait mode, allowing users to capture 'high quality photos' by intuitively detecting the human faces at various angles and applying subtle enhancements to skin and eyes.
The Nexus 4, like One X+, has an eight megapixel rear-camera with technologies including auto-focus, LED flash, touch focus, geo-tagging, face detection. It also has a 1.3megapixel HD front-camera.
Android 4.2 brings a new camera feature called Photo Sphere which enables users to capture images that are larger in size. With this users can also share their photos on Google+ and can add their Photo Sphere to Google Maps.
The rear-cameras of both the handsets are capable of capturing videos in 1080p at 30 frames per second (fps).
Nexus 4 vs One X+: Connectivity
Both Google's and HTC's handsets offer Wi-Fi N, DLNA for wireless streaming from the phone to a compatible TV or computer, Wi-Fi hotspot and Bluetooth v4.0 with A2DP. The handsets support 3G data speeds up to 21Mbps.
Unfortunately neither the Nexus 4 nor the One X+ supports 4G LTE network speeds but Google has confirmed that although its new Nexus smartphone does not connect 4G speeds, T-Mobile users will be able to enjoy HSPA + 42 speeds on their devices.
Both the phones are Near Field Communication (NFC)-enabled.
Nexus 4 vs One X+: Storage
The One X + is available for purchase in two storage variants: 32GB and 64GB whereas the Nexus 4 comes in 8GB and 16GB. Neither of the smartphones support microSD card for additional storage expansion.
Matias Duarte, Director of Android operating system User Experience at Google, explained the reason why Google opted not to include a microSD card slot in the Nexus 4:
"We take a different approach. Your Nexus has a fixed amount of space and your apps just seamlessly use it for you without you ever having to worry about files or volumes or any of that techy nonsense left over from the paleolithic era of computing. With a Nexus you know exactly how much storage you get upfront and you can decide what's the right size for you. That's simple and good for users."
Nexus 4 vs One X+: Battery
Google and HTC's phone both come with a 2100mAh battery. HTC says that the 2100mAh battery of One X+ delivers up to six hours more talk time and longer browsing, listening music and watching videos than the HTC ONe X.
On the other hand Google promises the battery in the Nexus 4 will offer talk time above 15 hours and standby of 390 hours.
Nexus 4 vs One X+: Price
As far as the pricing is concerned, the One X+ with huge storage space is slightly more expensive than the Nexus 4. There is no information on the 32GB version of the One X+ whereas the 64GB model is priced at £474. The 8GB and the 16GB models of Nexus 4 come with a suggested retail price at £239 and £279 respectively.