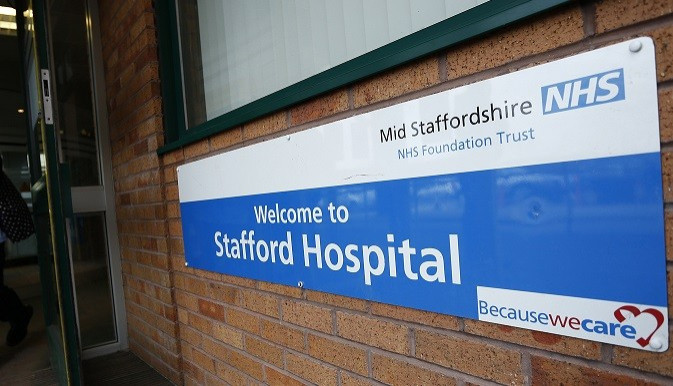 The NHS could see a repeat of the Mid-Staffordshire scandal and a funding gap of £30bn unless there are radical changes in the service, officials have warned.
According to a report by NHS England, a funding gap in the service could grow to £30bn by 2020/21 unless there was a "open and honest debate" about the service's future.
The report warns that hospitals must adapt to the changes in technology and make the most of new medicines to deal with growing pressure because of the ageing population and flatlining funding.
Bold changes including closing hospitals and merging GP surgeries must also be considered to stop a repeat of the scandal at Mid Staffordshire, where 1,200 patients died as a result of poor care and neglect.
"Without bold and transformative change to how services are delivered, a high-quality yet free-at-the-point of use health service will not be available to future generations," the document added
Sir David Nicholson, chief executive of NHS England, said: "The NHS was set up to provide high-quality care for patients, free at the point of need.
"The NHS has stayed true to this aim and to do so in the future, we must embrace new ways of working.
"The NHS, like every other healthcare provider in the world, is facing these challenges. Too often, the answers are to reduce the offer to patients or charge for services.
"That is not the ethos of the NHS and I am clear that our future must be about changing, not charging.
"To do so we must make bold, clinically-led changes to how NHS services are delivered over the next couple of years."
Changing expectations
He added: "Our analysis shows that if we continue with the current model of care and expected funding levels, we could have a funding gap of £30bn between 2013/14 and 2020/21,which will continue to grow and grow quickly if action isn't taken.
"This is on top of the £20bn of efficiency savings already being met. This gap cannot be solved from the public purse but by freeing up NHS services and staff from old-style practices and buildings. "
A Department of Health spokesman said: "The NHS has always had to respond to patients' changing needs and expectations.
"As lifestyles, society, technology and medicine continue to change, the NHS needs to change also.
"However, NHS England is clear that this will not mean cutting, charging for or privatising services. And this does not change the fact that any changes to local services must have the support of GP commissioners, be backed by clear clinical evidence, involve local people and support patient choice.
"There must be a rigorous local assessment of any proposals to reconfigure clinical services against those tests. If proposals for change do not meet those tests, then those changes will not happen."