Niantic has detailed its first major global event for mobile phenomenon Pokémon Go, revealing what will happen at the very first Pokémon Go Fest being held in Chicago on Saturday 22 July. Players around the world will be able to take part as well however.
The event involves a three-stage challenge which primarily takes place on the Saturday, but extends through until the Monday after. The first stage tasks players with catching certain types of Pokémon to unlock in-game bonuses.
This first stage will take place during three set half-hour periods at 5pm, 6pm and 7pm UK time.
During this stage, catching fire types will increase the amount of Pokémon candy attained for example, while catching lightning types will reduce the distance needed to hatch eggs.
The amount of each type of Pokémon caught by those in Chicago will determine the bonus affecting players worldwide.
Meanwhile, players outside Chicago will be able to increase the duration these bonuses effect their own play by catching Pokémon.
Catch enough to attain the bronze tier and the bonus will be extended by 24 hours, catch enough for the silver tier and it'll be extended by 48 hours. Reach the gold tier and we move on to phase two of the challenge.
Phase two is for players in Chicago only. This mystery challenge will take place between 6pm and 7pm Chicago time and if completed, will unlock a global reward in phase three.
Details are obviously being kept under wraps, but it sounds to us like the perfect opportunity to introduce the game's very first legendary Pokémon.
Eleven legendary Pokémon currently exist in the game but have not yet been made available to capture. These are Articuno, Zapdos, Moltres, Mewtwo and Mew from the first generation of Pokémon, and Entei, Raikou, Suicune, Lugia, Ho-Oh and Celebi from the second generation.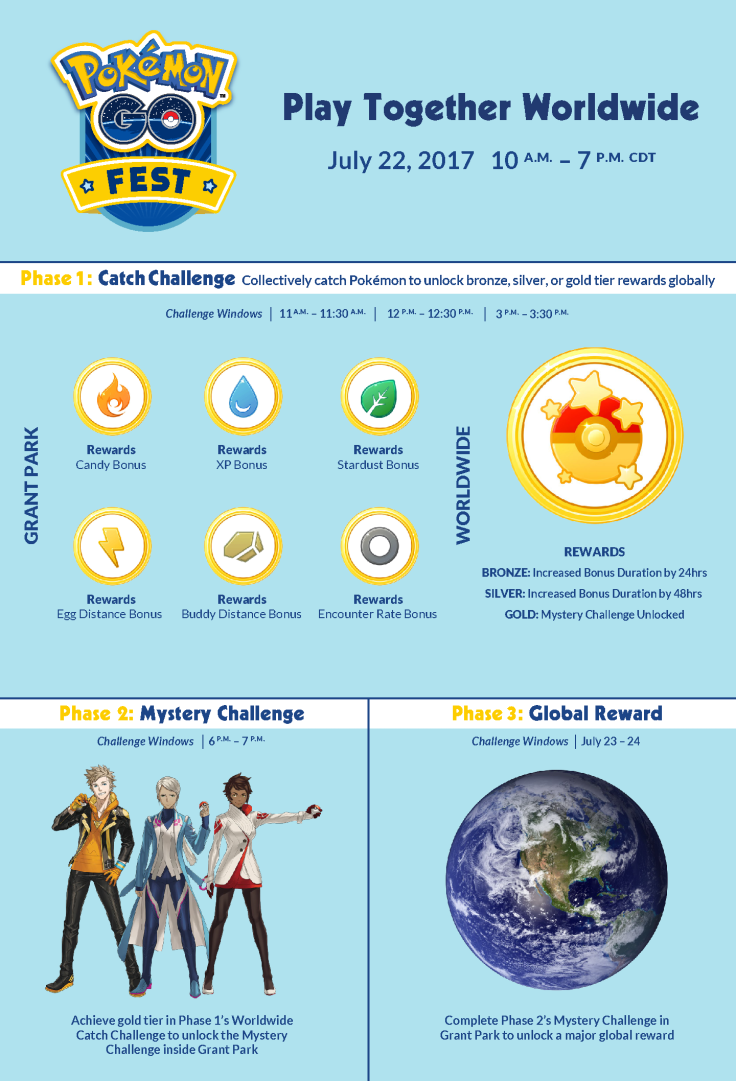 In addition to this, Niantic has announced future events taking place around the world. Safari Zones will pop in various Unibail-Rodamco shopping centres across Europe in August and September.
"All seven Pokémon Go Safari Zone events will give Trainers the opportunity to catch a wide variety of Pokémon in special zones featuring Pokémon originally encountered in the Kanto and Johto regions, including some Pokémon never before encountered in Europe," says the Go website.
This means Pokémon exclusive to certain continents will appear outside those regions for the first time. Tauros, for example, can only normally be caught in North America. Kangaskhan can only normally be found in Australasia. Farfetch'd in Asia. Heracross in Latin America and parts of Floria and Texas. And Corsola in tropical climes.
Any of these Pokémon could appear at the Safari Zones taking place at the locations below.
August 5, 2017
Fisketorvet—Copenhagen, Denmark
Centrum Cerny Most—Prague, Czech Republic
August 12, 2017
Mall of Scandinavia—Stockholm, Sweden
Stadshart Amstelveen—Amstelveen, The Netherlands
September 16, 2017
CentrO—Oberhausen, Germany
Les Quatre Temps—Paris, France
La Maquinista—Barcelona, Spain
Another event, called Pikachu Outbreak, will be taking place in Yokohama, Japan from 9 - 15 August. More details will be announced at a later date.