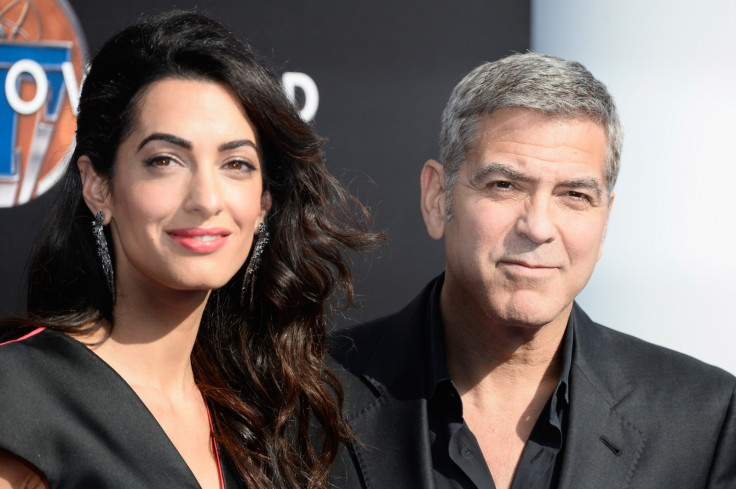 Nick Clooney has been sharing his joy at becoming a grandfather following the birth of George and Amal Clooney's twins.
The couple welcomed twins Ella and Alexander at London's Chelsea and Westminster Hospital on Tuesday ( 6 June).
The 83-year-old and his wife Nina skyped the new parents from their home in Lexington, Kentucky for their first glimpse of the babies.
Describing daughter-in-law Amal as a 'super woman', Nick, 83, told Fox 19 Now: "They're gorgeous. The babies are beautiful, of course. She is beautiful."
He revealed that new mum Amal has taken to motherhood instantly and is doing 'terrifically well' though he suspected George had already wet the baby's head.
"She is just amazing. She was guiding the narration, this is two hours after the babies were born, and she was in charge of the conversation. She was just great," he explained. "George, well, his eyes were glazed so I'm not sure that he was sober. We'll figure that out. That was a joke!"
Amal's mother Baria was with her daughter for the twins' birth. She said: "It was a beautiful delivery. Everything went well, the babies are beautiful and doing well."
Nick revealed that he and his wife have not yet made plans to visit their new grandchildren as George and Amal get used to being parents. "They have enough on their plate to have some visiting grandparents coming in to London. So we'll leave that one entirely up to them," he said.
"In their tidal wave of generosity, Amal and George present us with one more gift: hope. No, it's more than hope. It is belief that in this place and at this moment, love is alive and well."
George, 56, and Amal, 39, announced the new arrivals with a statement by their spokesman on Tuesday ( 6 June) .
"This morning Amal and George welcomed Ella and Alexander Clooney into their lives. Ella, Alexander and Amal are all healthy, happy and doing fine. George is sedated and should recover in a few days."
Dubbed the eternal bachelor George Clooney shocked the world when he announced he was to marry the stunning human rights lawyer. The pair tied the knot in a lavish wedding ceremony in Venice in 2014.