She is known as today's most successful female rapper but fans will now get to learn about the younger years of Nicki Minaj. The Young Money star is set to appear in and executive produce an ABC Family comedy series about her colourful childhood growing up in New York, giving her beloved Barbz a deeper insight into the real Nicki Minaj.
The sitcom is expected to chronicle the 32-year-old, real name Onika Maraj, moving from Trinidad and Tobago, where she was born, to Queens, where she grew up with her family. Confirming the news, which was teased on Twitter using the hashtag #Nickisurprise, Minaj said in a statement: "This is one of the more unique adventures I've ever embarked on. I couldn't be more proud and excited to team up with an amazing group of people to give the world something really special."
ABC Family's Karey Burke from programming and development added: "Nicki Minaj is a force to be reckoned with at everything she touches. Nicki is an international superstar, yet not everyone knows how inspiring and hilarious her true story is, and we can't wait to share it with the world."
Judging by the excited reactions from her Barbz on social media, the Only rapper already has a hit on her hands. Still in its early stages, there are few confirmed details about the sitcom but here is all the important information IBTimes UK has found so far...
AIR DATE
The pilot is expected to be filmed in the Queens borough before the end of 2015, of course, with hopes that it will continue into a full series.
THE STORYLINE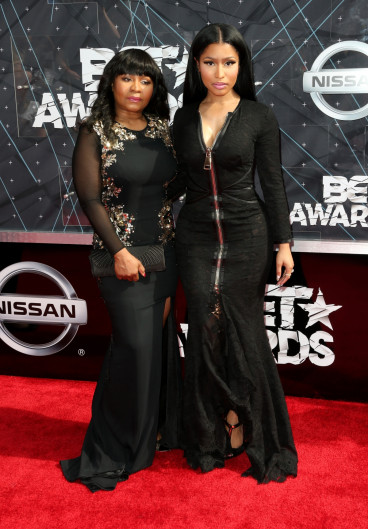 Minaj has been very open about her childhood in past interviews. The Starships rapper was born in Saint James, Trinidad and Tobago, but moved to the US when she was a child, living in Queens. In September 2014, Minaj's mother Carol Maraj revealed that the rapper's father Robert Maraj, a drug addict at the time, had burnt down the family's house. Recalling the incident in an interview with The Sun in 2014, Carol said: "My husband used to get high on cocaine and alcohol and would come home and terrorise the whole family. One night I woke up and smelled smoke. I went downstairs and the kitchen was on fire. I had to run out of the house and it burned to the ground."
Recalling her own memory of her childhood, Minaj told Nightline in 2012: "My father was abusive. We were afraid for [my mother's] life because whenever he would have a real bad outburst, he would threaten to kill her." However, it was not all heartache as the musician graduated from the city's prestigious performing arts school LaGuardia High School in Manhattan, which counts Jennifer Aniston, Liza Minnelli and Wesley Snipes among its alumni.
It is not yet known the extent of detail that the series will cover but the Grammy-nominee did tell her 20.2m Twitter followers: "First episode she'll be around 11/12."
WRITERS AND PRODUCERS
Along with Minaj as an executive producer, the scripted sitcom will be produced by Aaron Kaplan's Kapital Entertainment company and written by Kate Angelo, best known for feature-length comedies Sex Tape and The Back-Up Plan. Other executive producers include Stella Bulochnikov, Brian Sher and Gee Roberson.
THE CAST
Casting is yet to be announced but it has already been stated that Minaj will appear, although it is unclear if she will play her adult self or simply make a cameo. The hunt is now on to find an actress who will portray the younger version of the rapper, who tweeted: "I am now launching a nation wide search to find #YoungNicki."
Minaj's Barbz have been busy sending suggestions as to who they would like to see in the role, with The Hunger Games star Amandla Stenberg proving to be a popular choice. However, the rapper told her followers: "Wow. Now this is actually a GREAT suggestion. I kinda want an unknown tho." Referencing the actress who will eventually be chosen for the role, the hip hop star added: "It just dawned on me tho. The Barbz will be all over this little girl when we do find her. She has no idea #YoungNicki."
While some may be hoping to hear hits from her back catalogue, Minaj has confirmed that she is writing brand new songs exclusively for the series, tweeting: "I'll b writing raps for #YoungNicki to spit on TV omg I can't f'ing wait yall."