If you thought the thigh gap and bikini bridge crazes were bizarre enough then the new thighbrow trend will completely baffle you. Women are reportedly finding inspiration in celebrities such as Kylie Jenner, Khloe Kardashian and Nicki Minaj, who have been pictured with what is perceived to be the perfect crease.
So what exactly is a thighbrow? While the name might suggest something related to eyebrows, the craze actually consists of a woman kneeling down to create a roll or crease at the top of their thighs near the hip, typically while wearing swimwear. Like the various trends before them, the thighbrow appears to be a product of social media, particularly Instagram.
Certain celebrities can be credited for spurring on the trend. Reality star sisters Khloe Kardashian and Kendall Jenner showed off their thighbrows in a photo taken while on holiday in St Barts recently while rapper Nicki Minaj exposed plenty of it in the music video for her single Anaconda.
How to create the perfect thighbrow:
1. Find your favourite swimsuit or bikini
2. Get into position by either kneeling, sitting or crouching
3. Make sure legs are bent enough to create a roll or crease at the top of your thighs where they meet your hip
4. Strike a sexy pose and don't forget to pout
5. Share your thighbrow on Instagram
Clearly, women flaunting thighbrow believe it to be an attractive feature but why so? Body language expert Judi James believes it is just another arc of cosmetic enhancement without the surgery. The expert told the IBTimes UK: "Intense body fashion fuels genuine insecurities, though, especially when the next new 'ideal' has been created via surgical enhancements and sold as though it is natural.
"I don't think any of these looks are primarily aimed at attracting a partner. If you patch them all together as tattoo eyebrows, trout-pout lips, silicone breasts, bum implants, thigh gaps etc, you don't really create a woman that would be high on a guy's hit-list. This is Barbie doll mimicry, creating an idea of perfection that is more to do with women being competitive with each other."
James believes that women adopting the trend and sharing the look on social media are only fuelling the body image insecurities of others. She stated: "Sadly these women who obsess about their body parts are able to share their obsessions with their followers, making them contagious."
So who are the main celebrity offenders of thighbrow?
Kylie Jenner
Khloe Kardashian and Kendall Jenner
Nicki Minaj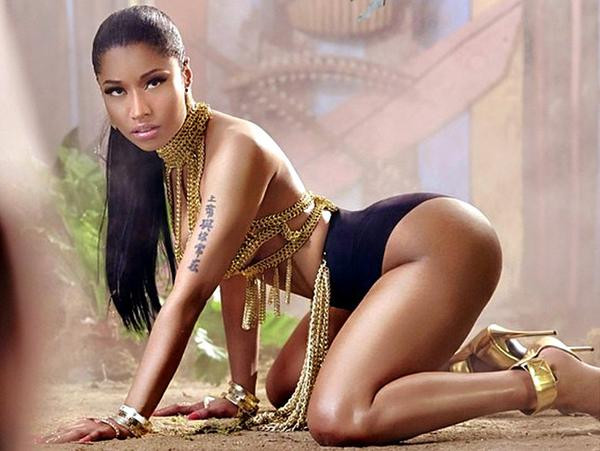 Beyonce
Amber Rose