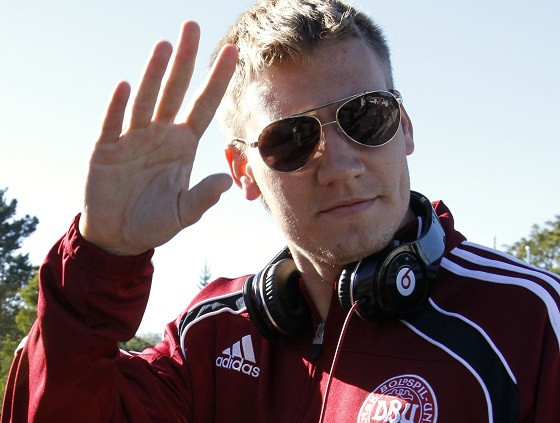 Nicklas Bendtner has burnished his credentials as a psychopath by unzipping his trousers and rubbing his crotch against a taxi during an argument with its driver.
Arsenal striker Bendtner allegedly "ran amok" during a night of heavy drinking in the city of Copenhagen in his native Denmark, earlier this week.
According to Danish tabloid BT, the 26-year-old threatened a taxi driver, telling him "I will f*** you" and also called him a "little bitch".
The alleged incident came only days after Bendtner bemoaned his image as a "psychopath" was hindering his career prospects.
The Emirates flop then rubbed his pants on the side of the cab. According to reports, the taxi driver called the police over the incident in the neighbourhood of Norrebro.
BT reported the driver as saying: "I have had drunk passengers in my car for 25 years and I have never seen anything like it."
Bendtner's timing was poor because the embarrassing incident happened on the same night Arsenal crashed out of Europe, losing to Bayern Munich in the Champion's League.
Last week, he said people had the wrong image of him, saying: "People think I'm a psychopath. The image people have about me is I'm all about partying, that I'm indifferent to football. It's as far from reality as could possibly be.
"For example, I've talked to clubs who say they've heard things about me, so I have to say none of them are true."
Bendtner is seeking a way out of Arsenal after spending nine years there. He has fallen down the pecking order but has continued to score regularly for Denmark.